November 16, 2022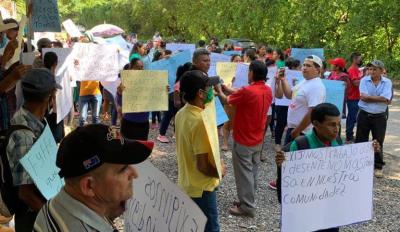 Choluteca, October 26, 2022 – Honduran farmworkers on marched on the melon fields in Choluteca demanding that multinational fruit giant Fyffes engage with them in good faith after the company walked away from negotiations with their union and stopped hiring union members, making it impossible for them to feed their families. 
The workers, members of El Sindicato de Trabajadores de la Agroindustria y Similares (STAS), called out Fyffes for turning their back on workers and negotiations, demanded an end to discrimination in hiring and called for intervention from the Honduran government to enforce the law and protect their rights. 
In August 2022, after 3 years of negotiations, Fyffes, the Dublin-based, Japanese-owned billion-dollar multinational and leading exporter of fruit to the United States and Europe, refused to sign an agreement with STAS that would have recognized international human and labor rights for up to 6,500 Honduran workers who pick melons for the company. 
Now, essentially locked out of their jobs, the union members are struggling to feed their families.
"How can we have a dignified life if we aren't working?" one worker said.
Watch a video of their action here. 
GLJ-ILRF has partnered with STAS and the workers and is working with its international allies in the global labor movement to demand Fyffes return to the table and agree and sign the agreement to uphold international labor standards for its workers.
We are also calling on the Honduran government to fully enforce labor laws to the maximum extent. 
Fyffes, which was named for labor violations in a complaint filed through the international trade agreement known as CAFTA, cut off negotiations with STAS after years of discussion, showing a deep disrespect for workers. The workers started organizing in 2016 to fight back against rampant wage theft, child labor, gender discrimination and exposure to dangerous chemicals. Fyffes seasonally employs up to 6,500 pickers in Honduras and the impact of its abuse– especially on women workers– is emblematic of some of the root causes of migration from the region. Fyffes failure to offer decent work has driven many workers to seek jobs in the US and the ability for Honduras and US to facilitate a meaningful resolution is a test of the CAFTA labor provisions and process.