December 18, 2013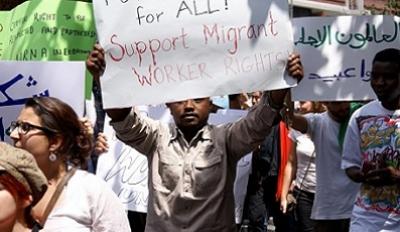 December 18, International Migrants Day, is a day to reflect on the growing impact of worker migration and urge policies to protect these often vulnerable workers. The global economy is fueling a rise in workers leaving their homes in search of better opportunities. Also on the rise, sadly, is gross exploitation of an often vulnerable population, far from their homes and networks of support, and often reliant on their employers for their very right to remain in country.
Migrant workers are subject to labor abuses such as wage theft, failure to pay the minimum wage, or being deprived of legally-mandated benefits. Yet they often lack the power to speak out. More serious abuses are also common. In many parts of the world, being a migrant worker is a risk factor for human trafficking. The ILO estimates that there are 21 million forced laborers in the world today, and of them, more than 40% migrated from their home into the forced labor situation.
Governments can make a difference to protect migrant workers. That is why the International Labor Rights Forum supports broad ratification of the U.N. International Convention on the Protection of Rights of All Migrant Workers and Members of Their Families. The Migrant Workers Convention provides the first comprehensive definition of an "international migrant," and identifies the protections that are essential to migrants and their families, such as the same rights to education and healthcare as national citizens. It extends fundamental human and labor rights to all migrant workers and members of their families, both documented and undocumented. Unfortunately, only 46 countries have ratified the Migrant Workers Convention to date, and the United States is not one of them. (Click here for a petition asking the U.S. to join!) We urge more countries, particularly those that receive large numbers of migrant workers like the United States does, to adopt this convention and begin changing national laws to fulfill its mission of justice and equality.
We have worked particularly closely with migrant workers' groups in Thailand, which is home to an estimated 3 million migrant workers, 80% of whom came from Thailand. Since the late 1980s, these workers have irregularly crossed borders to work in mostly dirty, dangerous and demanding jobs in Thailand thereby, significantly contributing to Thailand's economy and providing billions of dollars in remittances to support relatives in origin countries. These workers continue to face significant exploitation and confusing piecemeal government migration policies.
Two important ILRF partners -- the Migrant Worker Rights Network (MWRN) and State Enterprise Workers' Relations Confederation of Thailand (SERC) -- have been vocal in protecting these workers' rights. They issued a statement marking International Migrant's Day and asking the Thai government to take the following steps to protect migrant workers there:
Migrants should be treated equally to national workers. Migrants are entitled to equal protection under the law without discrimination on any grounds as a principle enshrined in the Universal Declaration of Human Rights. Migrants should be protected by related laws governing labor protection, social security, health coverage and work accident compensation.
An understanding by migrants of the right to association and collective bargaining under ILO Conventions 87 and 98 should be ensured to foster migrants' participation as members of trade unions. Membership in trade unions will enable all migrant workers to have wage and welfare negotiations with employers and provide a means for migrants to enhance their quality of life.
Clear policies and guidelines for a long term migrant workers administration plan should be created, particularly regarding registration, nationality verification and increased efforts by the State and all its officials to work concertedly and connectedly to promote migrant wellbeing.
The migrant import (MoU) process should be simplified to facilitate employers to file an application to employ migrants from overseas without relying on brokers. This will promote investment, reduce costs for migrants and prevent exploitation and trafficking.
Migrants should have freedom to change their employer, as the current overdependence on employers make migrant workers more likely to become victims of forced labor, debt bondage and trafficking.
A regulation requiring migrants' workplaces to include childcare centers should be created to ensure workers can maintain a healthy work/life balance and to prevent migrant children from being open to exploitation as well.