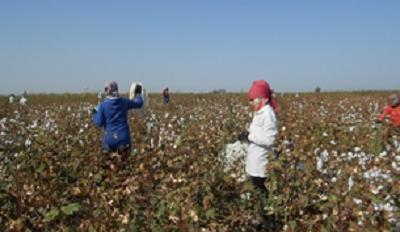 On Wednesday, February 1, the International Labour Organization (ILO) released its monitoring report on forced and child labor in Uzbekistan, which confirms that for a second year in a row, government mobilization of workers for the annual cotton harvest poses a significant risk of forced labor. We agree with several findings of the ILO report. The ILO reaffirms that sustainable elimination of the risk of child and forced labor remains a prominent issue in Uzbekistan. It also notes that labor relations are distorted and unregulated, and that local administrators are still under pressure to fulfill cotton quotas developed by the central government, both of which elevate the risk of forced labor. The ILO found that most higher education institutions did not operate fully during the harvest because students picked cotton for a month, and that private businesses had to mobilize staff to harvest cotton, or pay for staff to be excused. It also found that nearly all pickers are "called," or recruited, and that most pickers are at risk because of their dependence on the intermediaries that recruited them for employment or education.
However, we have grave concerns about the methodology, in which worker surveys were done in the presence of the state-controlled Federation of Trade Unions of Uzbekistan. That union was tasked by the Uzbek government with ensuring control over the cotton-pickers in a Protocol issued by Uzbekistan's Cabinet of Ministers, which detailed an order to deploy all medical and educational staff to pick cotton. The ILO itself cast doubt on the validity of survey responses, noting that, "many interviewees appeared to have been briefed in advance."
In addition, the ILO missed several key pieces of evidence that independent civil society actors who operate in Uzbekistan documented in their preliminary findings, that lead us to disagree with many of the report's conclusions. Those monitors documented child labor, as well as both child and forced labor in World Bank project areas. We also think the ILO missed some red flags about labor coercion in this year's harvest. It claims that two-thirds of workers were voluntarily recruited (a figure we believe is high), but said the remaining workers were only "at risk" of forced labor, not victims of forced labor. This despite multiple cases of clear threat of penalty that emerged in this harvest, including students expelled from school for refusing to participate, at least one teacher losing her job for refusing to participate, and one pregnant woman who, threatened with denial of her maternity benefits if she did not harvest cotton, miscarried in the fields.
Finally, we remain very concerned about detention, harassment and attacks, not only against civil society monitors documenting conditions in the field, but against a number of journalists from multiple countries to suppresses independent scrutiny of labor practices in the harvest. Uzbek human rights activists Elena Urlaeva (who has been monitoring forced and child labour in Uzbek cotton for over a decade) and Malokhat Eshonkulova, were repeatedly arrested and harassed by the authorities for their attempts to document the cotton harvest. They were accused of espionage, insulted, exposed to repeated searches and forced to strip naked. Urlaeva, who suffers from health issues, was denied access to water or medication by police officers. Documented arrests of journalists includes:
On November 29th, a Russian journalist of "Moskovsky Komsomolets" newspaper, Yekaterina Sazhneva was detained, interrogated and deported with a ban to return to Uzbekistan for three years, one day after meeting with Uzbek human rights activist Elena Urlaeva.
On November 10th, experienced German freelance journalist Edda Schlager was detained in Tashkent, interrogated and later deported. She was banned from the country for three years in a court hearing on the day of her arrest, with no legal representation or translation during the trial.
On October 6th, police in Buka, in the Tashkent region, arrested Elena Urlaeva, photojournalist Timur Karpov, and two French journalists when they visited a cotton field.