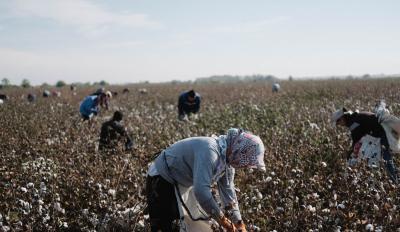 A new report released today by Uzbek Forum for Human Rights (formerly Uzbek-German Forum / UGF) on the 2019 cotton harvest in Uzbekistan documents both meaningful progress toward ending forced labor and the persistence of government-organized forced labor, said the Cotton Campaign. The report finds that the state-imposed cotton quota, structural labor shortages, the lack of fair and independent recruitment channels, and weak accountability systems contributed to significant ongoing forced labor, including in the newly privatized cotton textile cluster system. Lagging progress on civil society freedoms is also limiting the success of broader reform efforts.
The report, "Tashkent's Reforms Have Not Yet Reached Us" – Unfinished Work in the Fight Against Forced Labor in Uzbekistan's 2019 Cotton Harvest", is based on 111 in-depth interviews with people involved in the cotton harvest as well as hundreds of brief interviews, field visits, and farm-level monitoring in six of Uzbekistan's regions. The report also includes data and analysis from a nation-wide online survey to assess participation and conditions in the harvest, conducted in partnership with the Solidarity Center and RIWI Corp., a public polling/research firm.
"The 2020 harvest shows that the reform process is taking hold and also that significant problems remain. The task now is to tackle these problems head on," said Umida Niyazova executive director of Uzbek Forum. "Civil society has a key role to play in problem-solving as well as reporting on forced labor and it is far past time to ensure civil society freedoms are protected."
Documentary and witness testimonies collected by Uzbek Forum monitors showed the continued involvement of the central government in the mobilization of citizens to pick cotton, including people working in mid-level level civil servant positions, such as employees of banks, local administrations and government agencies, as well as firefighters, police, and some medical and educational personnel, particularly in later stages of the harvest and in lower-population regions. Officials continued to issue orders to district officials, tax departments and entrepreneurs to mobilize people to pick cotton.
In interviews, employees of state and privately-owned enterprises consistently reported that they could not refuse to pick cotton when told to do so by government officials or their employers for fear of dismissal or other job-related consequences. Similarly, around half of respondents in the online harvest survey said that they could not refuse when asked by employers or government officials to go to the fields or pay for a replacement picker. This testimony underscores the pressing need to establish effective recruitment systems free from interference or coercion by the government or the authorities.
The report also documents that the pace of reform on civil society freedoms—especially the freedom of citizens to form civic associations such as nongovernmental organizations (NGOs) and independent trade unions—has lagged far behind the pace of reforms in other key areas. Although the government often showcases its cooperation with independent civic activists in monitoring the cotton harvest, only one independent human rights NGO has successfully obtained registration since President Shavkat Mirziyoyev came to power. Several others have had their applications to register repeatedly rejected for minor mistakes under Uzbekistan's burdensome registration procedures. The report highlights the case of Chiroq, a labor and human rights NGO in Karakalpakstan, which has twice had its registration application rejected. In February, members of Chiroq were subjected to harassment, intimidation, and arbitrary detention to prevent them from meeting with members of a visiting Cotton Campaign delegation. In a recent troubling incident on June 8, four human rights defenders were arbitrarily detained while monitoring child labor in cotton weeding in the Namangan region. The activists were forcibly tested for Covid-19 and placed under police-supervised quarantine, an action that appeared intended to limit their monitoring, not protect public health.