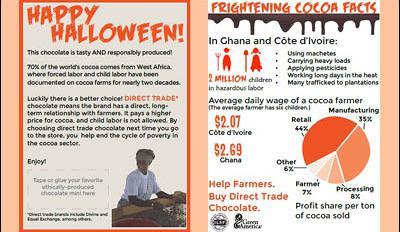 Over 70% of the world's cocoa comes from West Africa, where cocoa farming families, with an average of 6 people, live on roughly $2 per day. As a result, over 2 million children are relied on to harvest the cocoa crop each year. 
This Halloween, distribute better chocolate to trick-or-treaters, and spread awareness about the issue with these Halloween cards we developed with our ally Green America.
How it works:
1.       Download the Halloween cards and print out as many as you need (four cards per page)
2.       Order or buy direct trade or fair trade chocolate minis - check out Equal Exhange or Divine Chocolates. 
3.       Attach 1 mini to each card with double sided tape or non-toxic glue
4.       Share with trick-or-treaters and their parents
Halloween is one of the biggest holidays of the year for the chocolate industry. This year, we hope you will help us put the major brands on notice that consumers demand better. Vote with your chocolate purchase this year and buy direct trade.