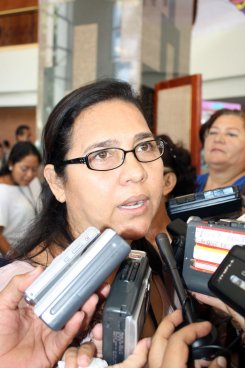 ILRF honors the Maquila Worker Organizing Project of the General Workers Federation (CGT) in Honduras for showing the world that union organizing enables workers to win binding agreements with global brands and secure respect for their rights in global supply chains.  The CGT was founded in 1970 and represents 150,000 workers from three peasant organizations, two women's organizations, and four union federations from various sectors including the public sector, education, health, banking, apparel and textiles, mining, and transportation.
This award is also to recognize the strong women leaders at the head of this project. Evangelina Argueta, the coordinator for the Maquila Worker Organizing Project, has impressed international union leaders and global business representatives alike. Argueta began working in the apparel industry at age 15 and was a founding member of the SITRAVINCASA union at her factory at age 16. In 2009 and 2010, Argueta negotiated historic agreements with two major US apparel brands, and she recently served on a tripartite commission regarding the apparel industry in Honduras. Argueta's leadership has inspired other women workers and she is committed to encouraging more women to lead.  She will be joined by Vilma Gómez, garment worker and president of the union at the Jerzees Buenavista factory in Honduras.
ILRF interviewed Evangelina Argueta this past International Women's Day March 8, 2014:
How did you become active in the struggle for workers' rights?
I joined the struggle because I started working in a garment factory at the age of 15. I knew my rights were being violated. The factory paid by the piece and my job was to affix buttons. When my machine broke, management said that they wouldn't pay me. They said I would have to pay for the product that was ruined by the machine, but I refused.  The factory didn't pay for overtime. The supervisors yelled at us a lot – I didn't like that. I heard that there was a group of workers who wanted to organize for change. I joined with them and founded the union at my factory. I worked at that factory for nine years before becoming a full-time organizer.
What have garment worker unions achieved in Honduras?
In 1982 the wages were extremely low and we weren't paid any extra for meeting high production targets. So that was one of the things we fought for – and won – through collective bargaining agreements. We improved the wages in the industry and we won more respect for ourselves.
We've won agreements with multinational brands after factories have closed. Factories never paid severance compensation before but we have successfully pressured them to pay it after several closures. After one factory closed, we won not only decent severance but also an agreement from the brand that they would give priority hiring to those workers at their other factories. Through organizing coordinated campaigns we've succeeded in getting factories to provide for beyond the bare legal requirements.
Achieving collective bargaining agreements isn't easy. Factories will accept unions but they don't like collective bargaining agreements. Now unions have contracts at eight garment factories in Honduras; the CGT represents workers at four of them. We're currently negotiating contracts at three factories – two are new negotiations and one is for the second CBA.
Did you have a special activity today for International Women's Day?
Today we gave a labor rights training to workers – many of them women – in Choloma and San Pedro Sula, and we recognized International Women's Day during that training.
How do the conditions of the garment industry affect women workers in particular?
Factory work leaves women with hardly any time for their studies. A huge challenge for these women is to be able to advance in their education. Many of them are single mothers, so it's already like two full-time jobs. The factories give them employment but they also give them many health problems. It's very repetitive work and brands need to be serious about the health problems. Already at 45, women workers are facing serious health problems and have trouble accessing health benefits when factories fail to pay into social security.
Through worker training and union organizing, we've been able to decrease sexual abuse in factories, although I can't say that it's completely gone away. Where there aren't unions, women are fired when they speak up. Getting our right to freedom of association respected has been very hard. We've had to even leave Honduras to call out the brands so that they'll respect our right to freedom of association in our country.
What else would you like consumers and trade unionists in the United States to know about the working conditions and struggle of Honduran workers?
I think it's important that people understand that while Honduras is in an economic and political crisis, that independent from that workers are fighting for their rights, that it's possible to have employment and for the jobs to be good jobs. Yes, it's a violent country but it's also a country where we can work. We need better working conditions. We make good quality products in Honduras. CGT has been fighting for there to be more employment and for the jobs to not leave the country. There is no reason to be afraid of Honduras and of the union fight.
There are 115,000 jobs in the Honduran garment and textile industry. In textiles the majority of workers are men. In garments 60% are women. Since the political crisis five years ago, we've lost 10,000 jobs in this industry. Those jobs mostly went to Nicaragua because Nicaragua has a preferential export agreement with the United States and wages are much lower there. That's why we're linking with workers across Central America and in the Caribbean and Asia: we all deserve decent wages and fair treatment.
Your union is active in the International Union League for Brand Responsibility. What are your hopes for the work of the League?
The League is making great strides. As the CGT we participate in the League – along with unions in ten other countries around the world. It's a very interesting space because we've made it clear to multinational brands that they have to respect workers' rights.