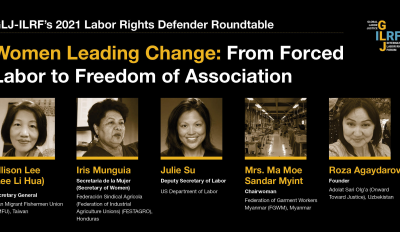 Date:
Monday, November 8, 2021 - 12:00pm
GLJ-ILRF's 2021 Labor Rights Defenders Roundtable 
Women Leading Change: From Forced Labor to Freedom of Association
Join us for our annual event where GLJ-ILRF lifts up the voices, experiences, and visions of labor rights defenders on the frontlines of the fight for decent work and social justice. Speakers include U.S. Department Secretary of Labor Julie Su along with women union leaders from around the world who are creating innovative models to defend labor rights and build worker power in food processing, manufacturing and agriculture. Their work shows how workers are organizing around the world even in sectors that have historically relied on forced labor with women's leadership at the front!
To watch the event live stream click here. 
Registration for this event has closed, if you have any questions about registering for the event or do not receive a registration confirmation email, please contact patricia [at] ilrf.org to help you participate in the event.