April 3, 2017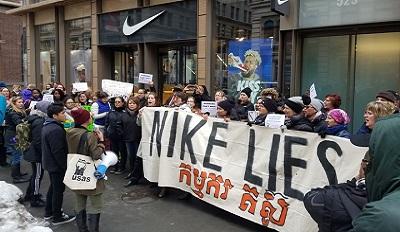 Originally published in Huffington Post.
Just as March Madness ends with the final game tonight and many students prepare to double down on year-end commitments, Nike – the world's largest athletic wear brand – is ditching its commitments by blocking respected labor rights experts from assessing its supplier factories. Not only is Nike reneging on its commitments to the university students who demanded respect for their logo, it is also cutting off a critical means for workers to secure their rights at work. Students across the United States are now speaking out in support of those workers. United Students Against Sweatshops has launched a campaign website and organized more than 150 protests to demand Nike make good on its accountability commitments. Unfortunately, it seems that Nike, in an era of alternative facts, would rather narrow the information it considers than keep an open channel for workers' rights.
Since 2000, a growing number of universities, many of which have multi-million dollar contracts with Nike, have affiliated with the Worker Rights Consortium (WRC) for independent monitoring of factories making university-licensed apparel. The WRC is a non-governmental organization that conducts its own investigations, which are fully transparent and informed by the WRC's continuous engagement with local organizers and worker leaders. Unlike the for-profit auditors common in the garment industry, the WRC does not accept money from corporations or from labor unions. Nike's refusal to abide by the policies of the universities and allow WRC access to its suppliers turns the clock back on the company's corporate social responsibility commitments by nearly two decades. Nike is effectively signaling disregard for worker testimony, a move that is not only undermining local human rights advocates but also a bad business decision at a time when many companies are seeking out more information about their operations, not less.
Nike's refusal to hear from a proven independent monitoring program is additionally surprising since it comes just as the United Nations Guiding Principles on Business and Human Rights are sparking an uptick in both corporate supply chain due diligence and new national laws. France, for example, recently published the Corporate Duty of Vigilance law requiring certain large companies to conduct and report on human rights due diligence for both their own activities and those of the entities within their control, including third parties in their supply chain.
Yet Nike wasn't always like this. Although initially slow to engage with human rights organizations on corporate compliance programs, Nike made an abrupt about-face in 2005 when it became one of the first global corporations to publicly disclose its supplier factories. As a growing number of universities affiliated with the WRC – now 187 – the WRC was able to work with Nike to bring about notable improvements in its supplier factories.
Most global brands – in the wake of the Rana Plaza factories collapse that killed 1,134 garment workers in Bangladesh – are examining how their supply chain monitoring programs failed to protect workers even when they tried to raise concerns. Meanwhile, Nike is closing down a channel through which workers could raise concerns and be ensured an objective, independent investigation of their complaints. Rana Plaza survivors report that they begged to not go inside the visibly cracking building and that they were threatened with a loss of a month's wages if they did not comply; some were even hit and pushed inside. Workers' right to refuse dangerous work was denied and the brands buying from the five factories had no way to hear from workers, no real-time warning system about worker complaints. Among factory monitoring initiatives, the WRC is often the only one with a presence on the ground that connects directly with workers and their organizations.
Nike cutting ties with a respected civil society organization is not only dangerous for their own supply chain fitness, but it also directly undermines respect for human rights by sending a clear message to its suppliers that civil society organizations need not be tolerated. This is particularly dangerous as Nike operates in countries where the space for civil society is regressing rather than progressing. In 2016, the UN Special Rapporteur on the Rights to Freedom of Peaceful Assembly and Association, Maina Kiai, focused his report on respect for these rights in the workplace and documented "the global crackdown on human rights that targets organizations and individuals working on labour issues." Mr. Kai's analysis concludes that because global corporations can easily move garment production from country to country and they do not directly employ the workers, host country governments have very little enforcement power and, instead, are downgrading worker protections so they can remain attractive to brands like Nike. In this context, Nike's refusal to engage a human rights NGO is simply toxic.