January 11, 2016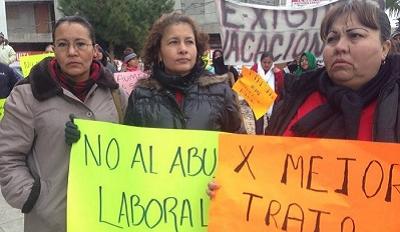 This blog post was originally published on AFL-CIO Now.
Just across the border with Texas, workers in Ciudad Juárez have been launching brave actions against global manufacturing giants to improve conditions in the low-wage maquiladora sector. Over the past six months, workers at large assembly plants owned by Commscope, Eaton, Foxconn and Lexmark, producing electronics, auto parts and printing supplies for the U.S. market, have launched a series of mobilizations to protest wages as low as $30 per week, unsafe working conditions, sexual harassment and discrimination. Juárez is a major location of such industry, accounting for well over 10% of all such exports from Mexico. In several cases, workers have attempted to form independent unions to defend their rights and have a voice at work.
In response to these actions, these companies have engaged in mass firings of working people, targeting those who have engaged in union activity. State authorities have been complicit in undermining the rights of these workers. Many of the workers have filed legal claims for unjust dismissal, but the Labor Board in the state of Chihuahua has taken no action to reinstate them or make them whole.  Moreover, the Labor Board has in several instances rejected union registration applications for minor technicalities, preventing the workers from exercising their freedom of association. State authorities also have given employers the names of all those who have supported the union and its demands, leading to targeted firings of those workers.
These actions belie recently announced labor reforms in Mexico. Under pressure to improve labor laws and practices to gain access to the Trans-Pacific Partnership, Mexico's federal government put forward several reform initiatives—including the ratification of International Labor Organization Convention 98 on the right to organize and collective bargaining, a reform of Mexico's Labor Boards at the federal and state levels and a new labor inspection protocol. If put into practice, these changes could begin to allow workers in Ciudad Juárez and other manufacturing centers to actually exercise their rights. Unfortunately, these announcements have had no impact on the labor authorities and the company managers in Ciudad Juárez.
Mexican authorities seem to be content to continue to do business as usual. These repressive practices continue those that have characterized Mexico's export manufacturing sector [for] over the sad 20-year history of the North American Free Trade Agreement. If the TPP is approved, it will double down on the failed policies of the past by favoring exports based on poverty-level employment and the everyday denial of workers' rights in Mexico, destroying even more good jobs in the United States than the hundreds of thousands that already have been eliminated. While Mexico and the United States have promised improvements to labor law in Mexico, it is likely they will only manifest on paper and not be felt by workers seeking to exercise their rights. The TPP contains no provisions to ensure that monitoring and enforcement of the labor rights will be deliberate, consistent, timely or effective.
The AFL-CIO stands in solidarity with the workers at Commscope, Eaton, Foxconn, Lexmark and all of the maquiladoras in Ciudad Juárez. To improve conditions, the labor movement calls for: 
Companies to end their repressive practices, reinstate the workers who have been fired and negotiate contracts that establish living wages and decent working conditions.
The Labor Board to order the reinstatement of workers who have been fired and grant legal registration to the unions that have requested it.
Mexico's federal government to intervene to ensure that events in Ciudad Juárez do not make a mockery of its proposed labor reforms before they are even enacted.
The U.S. government, as well as state and local ones, to any review any government purchases from these suppliers that may be using U.S. taxpayer dollars to subsidize violations of labor rights.   
More holistically, when Pope Francis visits Ciudad Juárez next month to conduct a cross-border mass, we hope his call for the faithful "to fight for social benefits, a dignified retirement, holidays, rest and freedom for trade unions" will be heard loud and clear.
Photo Credit: Yessica Morales