July 3, 2014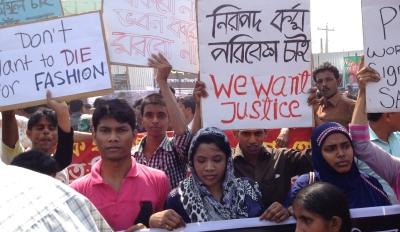 After 30 years of unsafe and abusive conditions, consistent repression of union organizing, and the lowest wages in the world, Bangladesh's apparel industry is today the testing ground for massive industry reform initiatives.   The Accord on Fire and Building Safety in Bangladesh, a legally-binding agreement between 180 apparel companies and 12 unions, has introduced accountability and transparency in an industry where social responsibility has meant voluntary efforts and private reporting.  The U.S. Government has appropriately demanded genuine freedom of association as a condition of trade benefits under the Generalized System of Preferences (GSP) in a country where labor leaders and union members have been fired, harassed, imprisoned, tortured, and even killed with impunity. More than a year after the launch of the Accord and the U.S. suspension of GSP benefits, is there progress in Bangladesh?
The U.S. Trade Representative Office  (USTR) says progress is not enough to reinstate trade benefits.  While acknowledging a significant uptick in the registration of unions, USTR also notes with concern the "lack of progress on needed labor law reforms and continuing reports of harassment of and violence against labor activists who are attempting to exercise their rights." Supporting the USTR findings, Ways and Means Committee Ranking Member Sander Levin and Education and the Workforce Committee Senior Democrat George Miller stated:  "We need to continue to ensure that workers in Bangladesh are assured basic safety and internationally recognized rights in the workplace."
USTR and the Members of Congress are right that the climate of repression against union organizers does not warrant new trade benefits for Bangladesh.  But how should progress be measured?  Progress is not linear or uncontested, or even well-defined.  Nor is it guaranteed. 
Progress on the Accord is one sign of progress being made. The Accord has hired 110 engineers, conducted over 800 inspections for fire, electrical and structural safety, and forced the temporary closing of several factories.   Those shutdowns have potentially saved thousands of lives.  But one factory, Florence Fashions, is now refusing to suspend production despite the Accord findings of imminent danger to workers.  The government agrees with the findings, but has not insisted the factory temporarily shuts down.
Union registration is a second sign of progress. Trade union registrations in garment factories increased dramatically in 2013 and 2014, following the Rana Plaza tragedy and the suspension of U.S. GSP benefits.  According to figures from the AFL-CIO Solidarity Center in Bangladesh, 19 garment worker unions applied for registration and only two were approved between 2010 and 2012.  However, from 2013 through May of 2014, 240 unions had applied and 162 unions been approved.  Even including five management-sponsored unions these figures reflect a vast increase in union activity.
Yet, in May 2014, Bangladeshi unions began reporting a disturbing increase in violence against union members and growing numbers of union registrations being rejected for dubious reasons.  Most of the reports of violence implicated lower-level supervisors and local thugs.  But, accounts in Bangladeshi press have also revealed that the Bangladeshi Commerce Minister and the President of the Bangladesh Garment Manufacturers and Exporters Association (BGMEA) engaged in intimidation of labor activists themselves, calling for action against labor leaders who reported on the violence against union organizers, and stating that they were acting against the country's interest.  Such words from high-ranking government and business officials are eerily reminiscent of the Prime Minister referring to labor leaders as "enemies of the nation" after minimum wage protests in 2010; those leaders were persecuted, falsely charged with criminal activity, beaten and imprisoned.  Only this year did the government drop all charges against them.
The U.S. Government is right to continue to withhold trade benefits for Bangladesh. But there is much more work to be done in defining and measuring progress, and holding government and companies alike accountable to benchmarks of success.