November 14, 2013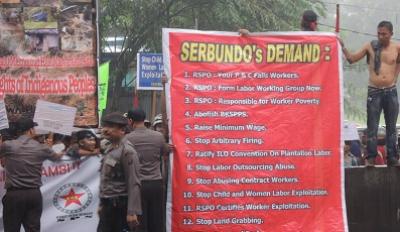 Medan, Indonesia—This week hundreds of oil palm workers and their allies crashed the 11th annual meeting of the Roundtable on Sustainable Palm Oil (RSPO), a multi-stakeholder organization that promotes "sustainable" palm oil, to protest the organization's failure to uphold its own labor standards. 
Arriving in colorful rain jackets on motorbikes and small pick-ups, the protesters braved a torrential downpour to deliver a blunt message to the RSPO: Stop certifying worker exploitation.
The protest was organized and led by Serbundo, an alliance of unions and community organizations whose members and supporters have been impacted by the country's powerful palm industry.  Indonesia is already the world's largest palm oil producer and it plans to double the number of hectares dedicated to palm by 2020.  
After thirty minutes of chanting "end outsourcing" and other slogans, the protest leaders were escorted inside the locked gates of the Santika Convention Center for a hastily arranged meeting with the RSPO Secretary General Darrell Webber, where they read a prepared statement and presented him with a list of demands. 
Serbundo's official statement noted that despite the Indonesian government and corporations' claims that palm expansion helps generate employment, most workers on palm plantations earn poverty wages with little hope of advancement.  On many plantations the majority of workers are casual laborers who have no job security, benefits, and often are paid well below the legal minimum wage.   These workers must buy their own tools and protective gear, further depressing their wages and unnecessarily exposing them to toxic pesticides.   Most work under unreasonably high target quotas (with wage deductions and other penalties), forcing them to bring their children and spouses to work. 
The protesters also highlighted the gap between RSPO's public statements, which include a commitment to require its members to uphold fundamental labor rights, and its track record of sidelining workers and labor issues in general:  Despite their essential role in generating wealth for the industry, workers have never been represented on the RSPO's executive board, which has twelve seats for palm oil industry companies and four for environmental and social organizations.  The lack of worker involvement has meant that none of RSPO's grower members have faced even a single complaint for violating the labor standards in RSPO's "Principles & Criteria." 
Serbundo's claims are supported by three new case studies published today by International Labor Rights Forum, which document labor trafficking, child labor, poverty wages, and hazardous work on two RSPO-certified oil palm plantations in Central Kalimantan and North Sumatra. 
While it's too early to tell if the protesters' bold action will result in any greater commitment to labor rights by the RSPO, Serbundo and its partners are determined to keep up the pressure on.