November 5, 2013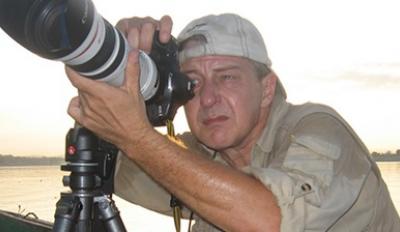 All of us at ILRF were tremendously saddened to learn that U. Roberto Romano – our beloved Robin – passed away at his home last week. Robin was a tireless advocate for children's rights, as well as an inspiring and supportive colleague. He was also an amazing cinematographer and highly acclaimed filmmaker, who dedicated his life to reporting on and exposing the exploitation of children. For ILRF, Robin's support and guidance was essential to keeping a spotlight on this ongoing global tragedy. 
ILRF worked closely with Robin on Stolen Childhoods, the first feature-length documentary on child labor ever produced. The film pushed public dialogue on child labor to new levels as consumers met exploited children and heard their stories first-hand. That Robin dedicated his amazing talent to this work is a testament to what a tremendously compassionate human being he was. His is not a life to be forgotten! I only hope that as we reflect on Robin's life and contributions, more child rights advocates will be inspired to follow the path he blazed.
Robin's intrepid reporting brought him into close brushes with child traffickers, and even local authorities, who didn't want him to expose the transport of children across borders or the other ways in which child laborers are deprived of an education, their childhoods, and in too many cases their families. Robin's film work on Dark Side of Chocolate, and more recently Shady Chocolate, produced by Miki Mistrati, gave clear visual explanations to the dangers of children working with machetes in the cocoa fields. Viewers witness directly the dangers of machetes as one of the children cuts himself cleaning the grounds of a school under construction. Robin is immediately in the thick of the triage, bandaging the boy's leg and helping transport him to a clinic. Robin's camera is unforgiving, presenting a literally down-to-the-bone perspective on the dangers of the worst forms of child labor.  Robin gave the same unrelenting treatment to child labor in the United States in The Harvest, which documents the lives and dreams of three migrant farmworker children. The film forces us to face the uncomfortable reality that discriminatory exemptions in our own laws have devastating consequences for the workers who harvest the food we eat and their families.
Robin Romano's passing is a tremendous loss to all those who advocate against child labor. Robin's passion and commitment to exposing injustice and the exploitation of children was an inspiration to me personally, and I'm sure to many others. Robin's work helped mobilize hundreds of thousands of child rights advocates around the world and gave us unique tools to help spread the message and build support.  Although the fight continues, we wouldn't see the changes we're seeing today in cocoa and other industries without Robin's courageous filming.  Robin's spirit, drive and compassion will continue to inspire our commitment to exploited children in West Africa, the US and so many other places around the world. He will be dearly missed.