October 1, 2018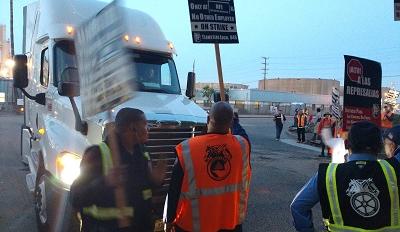 Today, southern California's port truck drivers and warehouse workers - many of whom are Black and Latinx workers and TPS recipients – begin a three-day strike to send a clear message to their port trucking employers (XPO Logistics and NFI Industries) and the country's most powerful brands and retailers: put an end to rampant wage theft and the misclassification of port truckers.
If you've shopped at Amazon, Walmart, or Target, there's a good chance your product entered the United States through the ports of Los Angeles or Long Beach, California, the entry point of over 43% of the goods coming into the country. Every year, 25,000 warehouse workers and port truck drivers in California move and deliver $450 billion dollars' worth of goods to America's favorite stores. While well-known retailers and brands like Lowe's, Sony, and JCPenney depend on this essential service, these port truckers find themselves trapped in unethical leasing agreements that leave them earning as little as $3 an hour. A groundbreaking 2017 investigative report from USA Today exposed a series of stories about the port trucking industry in southern California, comparing the working conditions to "modern-day indentured servitude." It found that port trucking companies have spent the past decade forcing drivers to work against their will – up to 20 hours a day – by requiring them to finance their own trucks and taking on debt they can't afford and then using that debt to extract forced labor, trapping them in destitute jobs. Drivers pay for all the diesel fuel, insurance, parking fees and truck maintenance. One driver told The Nation that his expenses add up to $2,600 a month, leaving the amount remaining from his paychecks to pennies – in one case 67 cents.  – Other drivers report that there are months where they owe more for work-related expenses than they earn. If the truck breaks down or the driver gets sick and they otherwise can't keep up with the payments, their truck can be seized and they can lose all the money they have invested in it. Workers have also reported that managers at a few companies have even physically barred drivers from going home to keep drivers working.
For years, a lack of effective legislation has allowed port trucking companies to get away with rampant wage theft. USA Today even reported that retailers like "Walmart, Target and dozens of other Fortune 500 companies have paid lobbyists up to $12.6 million to fight bills that would have held companies liable or given drivers a minimum wage and other protections that most U.S. workers already enjoy." Last week, these companies' efforts failed when California Governor Jerry Brown signed Senate Bill 1402 into law, which creates joint liability for retailers when port trucking companies are fined for wage theft in California.
ILRF and 53 other organizations have joined in solidarity by writing letters to major retailers such as Target, Lowe's, Office Depot, and Walmart, urging them to develop a Responsible Contractor Policy in partnership with the International Brotherhood of Teamsters to address the systemic forced labor problem in their logistics supply chains.
Read the open letter to brands and retailers here.