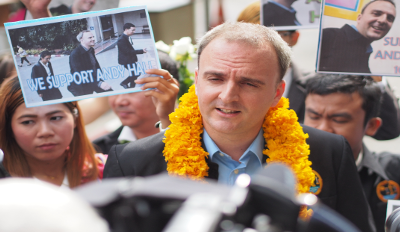 On May 31, the Thai Appeals Court ruled in favor of Andy Hall, a British labor activist who faced imprisonment for his legitimate work reporting on the abusive treatment of Myanmar migrant workers at a pineapple factory owned by the Thai corporation, Natural Fruit Company Ltd.
Since 2013, Andy has been subjected to numerous cases of judicial harassment initiated by Natural Fruit. While the assault on his human rights has not ended, this landmark decision by the Appeals Court sends a strong message to abusive employers that they cannot continue exploiting migrant workers and threatening human rights defenders without consequence. In finding that Andy's research was in the public interest and should be promoted in Thai society, the Court affirmed the message of the thousands of ILRF supporters who spoke out: freedom of expression is essential to corporate respect for human rights and migrant worker rights advocacy is not a crime.
And yet, the fight for justice is not over. Natural Fruit intends to continue harassing Andy by appealing the Appeals Court decision to the Thai Supreme Court. In addition, many other cases against human rights defenders and migrant workers are still pending in Thailand.
By shining an international spotlight on the need for further reforms in Thailand, we can support workers and their advocates who are risking their lives to expose injustices in the global economy. The thousands of people around the world who spoke out and sent messages of concern to the Thai government helped Andy's case receive global attention. Your efforts made a difference and we thank you for your support of human and labor rights in Thailand.
While we celebrate this victory, we also support Andy's call for genuine reconciliation so that he and other human rights defenders can continue their work in Thailand without fear of retaliation. There is much more work to be done and we continue in the struggle with you for just and dignified work for all workers in Thailand.