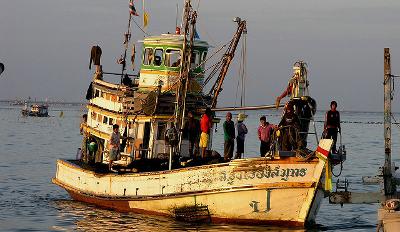 "Modern slavery doesn't happen only in warzones. It exists in areas of both darkness and plain sight of people all over the world – even at sea … there are many, many stories … where unscrupulous fishermen use the isolation of the sea to hide their crimes … And the reasons aren't hard to figure out. When criminals are able to turn a profit in an illegal fishing market, they'll go after as many fish as possible. …the more labor they have on board, the larger their catches will be. The economic incentives are there, which is precisely why illegal, unregulated, and unreported fishing practices have grown into a $20 billion a year industry."
-- Secretary of State John Kerry, Remarks at the 2016 Trafficking in Persons Report Ceremony
Working at the nexus of business and human rights, USAID's Supply Unchained initiative is leveraging partnerships, technology, and empowering workers to create a new model for identifying and preventing human trafficking cases in the lowest tiers of global supply chains.
The Opportunity
In recent years, global efforts to stop Illegal, Unreported and Unregulated (IUU) fishing have accelerated, with the Port State Measures Agreement, an international treaty which specifically addresses IUU fishing, entering into force in 2016 and the inception of the Our Ocean Conference in 2014, a global event focused on ocean conservation. The third annual Our Ocean Conference is hosted this year by the U.S. government, and for the first time, there will be a side event on labor trafficking in the fishing industry. The increased focus of governments and industry on tackling both IUU fishing and labor trafficking, and rising consumer demand for legally caught and forced labor-free fish, has sparked traceability initiatives such as Supply Unchained that address violations of both environmental and labor standards in the global supply chain. This infusion of energy and resources into programs dedicated to addressing IUU fishing and labor trafficking has created an unprecedented opportunity for concerned stakeholders to make significant progress in increasing visibility in the supply chain, which will help eradicate forced labor in the fishing industry and protect the ocean from irreversible harm.
The Problem
There are an estimated three to four million migrant workers in Thailand, most from Burma, Laos, and Cambodia, according to the U.S. Department of State's 2016 Trafficking in Persons Report.
Trafficking in the fishing industry remains a significant concern. Thai, Burmese, Cambodian and Indonesian boys and men are subject to forced labor on Thai and foreign-owned fishing vessels. Some fishers remain at sea for several years, are paid very little or irregularly, work excessive hours with no rest breaks, and are drugged, beaten, and even killed. Seafood supply chains are extensive and thus effective law enforcement on the high seas remains challenging from both a legal and practical perspective. As a result, fishers often remain entirely invisible in complex supply chains.
The Innovation
The International Labor Rights Forum (ILRF) believes Thailand is well positioned to explore how satellite-based vessel tracking technology can further efforts to combat human trafficking in the global fishing industry. Thailand continues to face significant pressure from both governments and businesses to address widespread human trafficking on Thai-flagged vessels. ILRF's innovative project, Stop Trafficking by Sea, will explore ways to harness vessel tracking technology to assess and reduce human trafficking risks in the Thai fishing industry.
The project will first work with human rights, labor and environmental groups to identify indicators of forced labor that would be most relevant and feasible for tracking labor trafficking at sea. The project will also map data sources that could provide reliable information to assess indicators of forced labor.
For project partners, this presents an opportunity to increase visibility into what workers experience on fishing vessels. Global Fishing Watch (GFW) has designed an interactive web tool to show all of the trackable fishing activity in the ocean via a global feed of vessel locations extracted from Automatic Identification System (AIS) tracking data. In the course of our project, GFW will ascertain vessel locations by satellite and terrestrial receivers, revealing the movement of vessels over time. The Stop Trafficking by Sea project will also explore the utility of such vessel data for worker organizations and industry actors to assess risks of labor trafficking in the fishing industry.
Funding Partners
Supply Unchained is a pioneering initiative supported by USAID's Center for Democracy, Human Rights and Governance. Supply Unchained seeks to better identify and counter human trafficking in global supply chains.  
The blue moon fund helps improve the human relationship to the natural world through strategic philanthropy, initiative-based investments and partnerships with companies, organizations and communities across the world.