Labor abuses persist on RSPO-certified palm oil plantations after being first exposed nearly a year and a half ago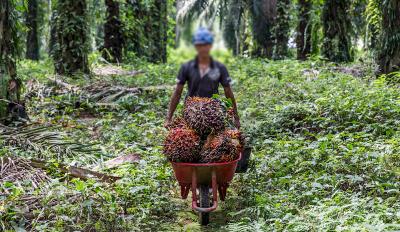 A report released by Rainforest Action Network (RAN), OPPUK––an Indonesian labor rights advocacy organization––and International Labor Rights Forum (ILRF) titled, "The Human Cost of Conflict Palm Oil Revisited: How PepsiCo, Banks, and the Roundtable on Sustainable Palm Oil Perpetuate Indofood's Worker Exploitation," reveals the findings of field investigations and worker interviews completed on three palm oil plantations owned and operated by Indonesian food giant Indofood, the sole producer of PepsiCo-branded snack foods in Indonesia.
Today's report is the follow up of a previous exposé of labor abuses on Indofood-owned plantations; the first report published nearly a year and a half ago. The most recent report finds conditions on the plantations remain largely the same, including high risks of child labor and forced labor conditions, as well as workers who are routinely exposed to highly hazardous pesticides, paid below the minimum wage, illegally kept in a temporary work status to fill core jobs, and deterred from forming independent labor unions, among other findings. The labor abuses were all documented on plantations certified as "sustainable" by the Roundtable on Sustainable Palm Oil (RSPO)––the leading certification scheme in the palm oil industry––and which are linked to PepsiCo through its joint venture partnership with Indofood.
"These findings are outrageous. Indofood, PepsiCo, the RSPO, and others, have known about the labor abuses happening on Indofood's plantations for nearly a year and a half, and little to nothing has changed," said Robin Averbeck, Agribusiness Campaign Director with Rainforest Action Network (RAN). "This second report should never have needed to be made. It is past time that those connected to these labor abuses act, or be remembered as those that condoned egregious worker exploitation all for cheap palm oil."
Labor abuses are widespread within the palm oil industry, but Indofood––one of the largest palm oil growers in the world and the biggest food company in Indonesia––is lagging behind its peers. Indofood is now the largest private palm oil company in Indonesia that has not strengthened its policies or improved its practices to align with the new benchmark for responsible palm oil: a commitment to no deforestation, no expansion on peatlands, and no violation of worker or human rights throughout the company's own operations as well as those of third party suppliers.
PepsiCo, also a significant laggard amongst its peers, released an updated palm oil policy in September 2015 that does not require its joint venture partner Indofood to comply with the principles of its policy. As a result of PepsiCo's inadequate palm oil policy and implementation efforts, hundreds of thousands of consumers and civil society organizations around the world are ramping up pressure on PepsiCo and standing in solidarity with palm oil workers, demanding that the company take immediate and meaningful action.
"The findings from this second investigation are upsetting, and with a multinational brand at stake, PepsiCo must do better," said Eric Gottwald, Legal and Policy Director at International Labor Rights Forum (ILRF). "PepsiCo prides itself on setting high sustainability goals, but can it truly say that labor abuses are 'sustainable'? It must take responsibility for the actions of its joint venture partner Indofood by bringing it into line with human and labor rights norms, or cut its ties. Inaction is no longer an option."
"As the leading certification in the palm oil industry, the RSPO must hold its members accountable. The RSPO can not continue to certify labor abuse, ignoring the plight of workers who face such unique risks," said Herwin Nasution, Executive Director of OPPUK. "As a matter of urgency, the RSPO must act on the complaint filed against Indofood, and strengthen both its criteria and its auditing systems, so that workers are protected, and we can hope to have truly 'sustainable' palm oil."
The report includes recommended reforms for Indofood and its parent company, First Pacific. The report also includes recommendations for PepsiCo, and Indofood's other joint venture partners, including Nestlé, as well as Indofood's certifying body, the Roundtable on Sustainable Palm Oil (RSPO), which has yet to adequately resolve the complaint filed against Indofood due to its now long-standing violation of workers' rights. Similarly, the banks and investors of Indofood are also named for their continued financing of Indofood––including Citigroup, HSBC, and major Japanese bank Mizuho Financial Group––as are the palm oil traders which source palm oil from Indofood, including Musim Mas and Wimar.
###
OPPUK is an Indonesian labor advocacy organization founded in 2005 by student activists and workers concerned about palm oil workers' working and living conditions in North Sumatra, Indonesia. OPPUK has three main programs that include organizing and educating workers, conducting research and advocacy and campaigning for the rights of palm oil workers in North Sumatra and Indonesia more broadly. 
Rainforest Action Network (RAN) campaigns for the forests, their inhabitants and the natural systems that sustain life by transforming the global marketplace through education, grassroots organizing and non-violent direct action. 
The International Labor Rights Forum (ILRF) is a human rights advocacy organization dedicated to achieving just and humane conditions for workers worldwide, founded in 1986 and based in Washington D.C. ILRF works with trade unions and community- based labor rights advocates to expose violations of workers' rights, including child and forced labor, discrimination, and violations of workers' rights to organize and bargain collectively.