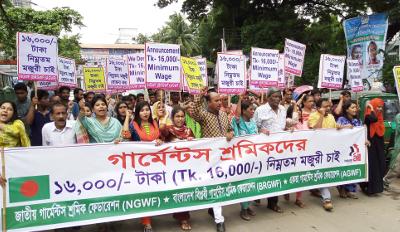 In a climate of fear and intimidation and after months of delays, Bangladeshi authorities have announced the new monthly minimum wage of 8,000 taka (USD 95) for the 4.5 million workers in the garment sector in Bangladesh. This amount shows complete disregard for legitimate workers' unions and for the need to set wages through social dialogue.
"The declaration of minimum wage of 8,000 taka totally failed to fulfill the expectations of the workers and workers' organisations," said Shapon Salauddin, the Secretary General of the IndustriALL Bangladesh Council (IBC).
Clean Clothes Campaign supports the IBC's s call for a review of the announced amount, in light of the well-justified demand of workers' unions for the new minimum wage to be set at 16,000 taka, and due to serious concerns about the wage board composition and process.
"The 8,000 taka as a new minimum wage is outrageous. As we have done all along, we are fully backing the demand for 16,000 taka that the IBC had clearly communicated to the Minimum Wage Board, and support them in requesting an immediate review given that the wage board process was deeply compromised," said Ineke Zeldenrust of Clean Clothes Campaign. 
The announced minimum wage of 8,000 taka is problematic in a number of ways. Not only is the total amount far below any credible living wage estimate, it is hardly even an increase (from the current minimum wage of 5,300 taka) given inflation in the country over the past five years, and given the increases that should have already been implemented based on legal requirements.
In addition, minimum wage of garment workers in Bangladesh is composed of a basic wage and several allowances. The new minimum wage increases the share of allowances at the expense of the basic wage, and that has additional negative repercussions related to overtime and severance pay.
Following several letters Clean Clothes Campaign sent to garment brands sourcing from Bangladesh, Inditex publicly declared the expectation that workers' demand voiced by the IBC would be taken into account, and that there would be "a fair increase in the minimum wage that preserves the right of workers to a living wage." Clearly, none of that has taken place.
The government of Bangladesh and the employers have failed to engage in a bargaining process conducted in good faith and based on respect for freedom of association, and that is reflected in the announced minimum wage.
"Brands and their associations have repeatedly expressed support for a living wage and for fair negotiations involving legitimate trade unions, so they cannot possibly approve of an 8,000 taka minimum wage nor of this process, both of which are strongly rejected by workers' legitimate representatives," said Ineke Zeldenrust.
Clean Clothes Campaign expects that garment brands will not continue to hide behind general statements, or stand by silently as millions of workers producing the clothes sourced from Bangladesh are scared to express their discontent while facing a starvation wage.
Brands must publicly and concretely demonstrate that they are willing to live up to their own ethical standards and ensure respect for human rights in their supply chains, including the right to a living wage.
If brands are serious about supporting fair wages and a fair negotiation process, now is the critical moment to publicly support the workers and their unions in Bangladesh, who have long since united behind the demand for 16,000 taka.