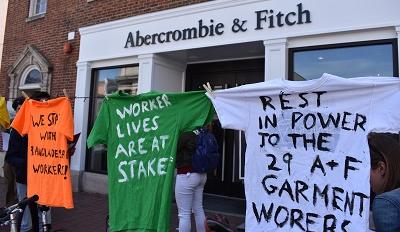 Today, shoppers and employees at twenty Abercrombie & Fitch stores encountered questions about whether the company will dial back on workplace safety in the garment factories in Bangladesh producing its clothes as students and consumers protesting at the stores chanted "Garment workers demand their rights / We will show and we will fight!" and held signs reading "Worker Lives Are at Stake" and "No One Should Die for Fashion".
The demonstrations were organized jointly by the International Labor Rights Forum, United Students Against Sweatshops, and Workers United, an affiliate of the Service Employees International Union. The National Day of Action was held as part of a Global Week of Action calling on all brands sourcing apparel from Bangladesh to sign a legally-binding workplace safety program together with two global unions -- Industriall and UNI -- and eight Bangladeshi unions.
The demonstrators pointed to the fact that Abercrombie is no stranger to the dangers that garment workers face. In December 14, 2010, 29 Bangladeshi workers died sewing for Abercrombie when a fire broke out at the That's It Sportswear factory fire and workers were trapped inside.  
It wasn't until after the April 24, 2013, Rana Plaza building collapse where 1,134 garment workers died in the deadliest disaster in the history of manufacturing, that Abercrombie finally agreed to join with other apparel companies in the Accord on Fire and Building Safety in Bangladesh. Since 2013, this legally-binding program has made factories safer for 2.5 million garment workers across 1,600 factories by adding fire doors, creating safe exit stairwells, and training workers to identify safety issues before they cause catastrophe.
The original five-year Accord expires next month, but Abercrombie & Fitch has refused to join the new three-year agreement, even after 147 other global brands have signed, including American Eagle Outfitters, H&M, and Zara.
Sarah Newell of the International Labor Rights Forum, said: "Abercrombie clearly hopes to get a free ride from the brands that are continuing their commitment to worker safety by signing the 2018 Accord. Their desire to benefit from safer factories without contributing to that effort is reminiscent of the brand behavior that led to the Rana Plaza collapse five years ago, and we will continue to fight to change that."
"USAS will not settle for Abercrombie putting workers in danger. The lives and work of those sewing A&F apparel are worth no less than ours," said April Lopez, a Sophomore at Gonzaga University and leader in USAS Local 14 in Spokane WA. "Personally, my family has faced dangerous conditions as migrant workers in agricultural fields. We've experienced wage theft, retaliation for speaking up, and receive little benefits. Having witnessed the conditions in my own backyard motivates me to push for the rights of garment workers overseas as well - they are my family too. For these reasons, worker safety is a non-negotiable issue for us. We will continue organizing around this issue until Abercrombie, and all the laggard brands who haven't signed the 2018 Accord prioritize the safety of their workers."