17 Align with Transparency Pledge; Others Should Catch Up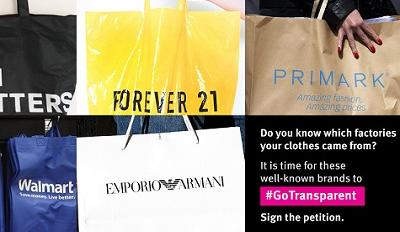 (London, April 20, 2017) – More apparel and footwear companies should join 17 leading apparel brands that have aligned with an important new transparency pledge, a coalition of unions and human rights and labor rights advocates said in a joint report issued today. The pledge commits companies to publish information that will enable advocates, workers, and consumers to find out where their products are made.
The 40-page report, "Follow the Thread: The Need for Supply Chain Transparency in the Garment and Footwear Industry," comes just ahead of the fourth anniversary of the Rana Plaza building collapse disaster in Bangladesh. It calls for companies to adopt the Apparel and Footwear Supply Chain Transparency Pledge. Companies that align with the pledge agree to publish information identifying the factories that produce their goods, addressing a key obstacle to rooting out abusive labor practices across the industry and helping to prevent disasters like the Rana Plaza collapse.
The coalition contacted 72 companies and asked them to adopt and carry out the pledge. The report details their responses and measures their current supply chain transparency practices against the pledge.
"A basic level of supply chain transparency in the garment industry should be the norm in the 21st century," said Aruna Kashyap, senior counsel for the women's rights division at Human Rights Watch. "Openness about a company's supply chain is better for workers, better for human rights, and shows that companies care about preventing abuse in their supply chains."
The Rana Plaza building collapse on April 24, 2013 killed over 1,100 garment workers and injured more than 2,000. It was preceded by two large factory fires – one in Pakistan's Ali Enterprises factory and another in Bangladesh's Tazreen Fashions factory – that killed more than 350 workers and seriously injured many others. Afterward, labor advocates could not determine which companies' products were made at these factories and had to hunt for the brand labels from the factory sites and interview surviving workers to determine who was responsible.
By the end of 2016, at least 29 global apparel companies had published some information about the factories that manufacture their products. To build on this momentum, in 2016, a nine-member coalition of labor and human rights organizations and global unions endorsed the Transparency Pledge. Its aim is to create a level playing field in the industry and move it toward a minimum standard for publishing supplier factory information.
The coalition consists of Clean Clothes Campaign, Human Rights Watch, IndustriALL Global Union, the International Corporate Accountability Roundtable, the International Labor Rights Forum, the International Trade Union Confederation, the Maquila Solidarity Network, UNI Global Union, and the Worker Rights Consortium.
Coalition members wrote to 72 companies – including 23 industry leaders that were already publishing supplier factory information – urging them to adopt and carry out the Transparency Pledge standards. At the time, many apparel companies, including some that source from countries with persistent labor rights problems, were not publishing any supplier factory information.
The Transparency Pledge draws upon existing good practices of global apparel companies and sets a floor, not ceiling, for supply chain transparency. It asks apparel companies to publish important information about supplier factories and their authorized subcontractors. These efforts to publish supplier factory information help assert workers' human rights, advance ethical business practices and human rights due diligence in apparel supply chains, and build stakeholder trust, in line with the United Nations Guiding Principles on Business and Human Rights.
Many significant investors have begun to urge apparel companies to make their supplier information public. Most recently, the Corporate Human Rights Benchmark, endorsed by 85 investors representing US$5.3 trillion in assets, score-carded apparel companies' supply chain transparency, requiring them to publish at least the names of factories that produced for them.
"After Rana Plaza and other disasters, human rights groups, unions, and some companies and investors have seen how important transparency is for preventing abuses and for efforts at accountability," said Ben Vanpeperstraete, lobby and advocacy coordinator at the Clean Clothes Campaign International Office. "Companies need to put transparency into practice to show that they respect human rights and decent working conditions."
Transparency is a powerful tool for promoting corporate accountability for garment workers' rights in global supply chains, the coalition said. It allows workers and labor and human rights advocates to alert the company to rights abuses in its supplier factories. Information about brands' supplier factories facilitates faster access to grievance redress mechanisms for human rights abuses.
Of the 72 companies that the coalition contacted, 17 will be in full alignment with the pledge standards by December 2017.
Many other companies fell short of the pledge standards: five fall just short of the pledge, 18 are moving in the right direction by disclosing at least the names and addresses of cut-make-trim factories, and seven are taking small steps toward publishing supplier factory information – for example, a part of their supplier factories, or at least the names of their supplier factories by country of manufacture, by December 2017.
Another 25 apparel companies do not publish information about factories that manufacture their products. Those companies either did not respond or made no commitment to publish any of the information requested.
The coalition urges companies that have not aligned with the pledge to do so by December and to help galvanize the apparel industry toward a basic threshold level of supply chain transparency.
"Adhering to a minimum level of supply chain transparency in the pledge is important for accountability efforts," said Judy Gearhart, executive director at the International Labor Rights Forum. "Companies can do more, but they should at least start with this basic step."
Some companies claimed that disclosure would put them at a commercial disadvantage. But that justification is clearly contradicted by the other companies that are publishing such information, the groups said. As Esprit, one of the companies that made a commitment to align with the pledge, said, "[R]eleasing this information is not comfortable for many companies, but the time has come to do it."