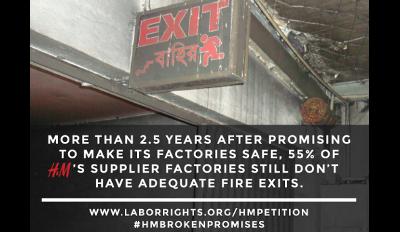 As Swedish fashion giant H&M prepares to announce a predicted increase in their profits for 2015, labor rights groups are calling on the company to do more to protect garment workers in Bangladesh, after a review of H&M's strategic suppliers shows that severe delays in carrying out urgent and vital building repairs continue to leave tens of thousands of workers at risk of death and injury.
The Clean Clothes Campaign, the International Labor Rights Forum, the Maquila Solidarity Network and the Worker Rights Consortium, each a witness signatory to the Bangladesh Accord on Fire and Building Safety, today published an update to an initial report into delays in safety repairs at 32 of H&M's most strategic Bangladesh suppliers. The update, based on a review of publicly-available documentation carried out in January 2016, shows that all but one of H&M's strategic suppliers remain behind schedule in making repairs and that over 50% of them are still lacking adequate fire exits.
"More than two and a half years into the process of the Bangladesh Accord every single mandated repair at H&M's suppliers should have already been completed. However, the sad reality is that hardly any of H&M's supplier factories in Bangladesh can be called safe," said Scott Nova of the Worker Rights Consortium.
The report does demonstrate some progress. Although the overall number of outstanding fire, electrical and structural renovations remains high at 37%, the number of items reported as "behind schedule" at these 32 factories has decreased. However, the authors point out that, while this reflects actual progress in some cases, it is largely the granting of deadline extensions to factories rather than the completion of renovations that explains the improvement.
"We are pleased that the pressure placed on H&M following our last report has resulted in some recent improvements, but are shocked that so much remains left to do," said Liana Foxvog of the International Labor Rights Forum. "We urge H&M to provide meaningful funding for life-saving safety renovations in order to put an end to the persisting delays."
Furthermore, the renovations required to ensure workers can safely exit a factory in the case of a fire are still subject to some of the most severe delays. In 13% of the factories (compared to 16% in September) lockable doors have not yet been removed; 38% percent of the factories (compared to 55% in September) still have not removed sliding doors and collapsible gates; and 55% have failed to install fire-rated doors and enclosed stairwells (compared to 61% in September) – any of these hazards could result in garment workers being trapped in a burning building, as has happened repeatedly in Bangladesh, including at H&M supplier, Garib & Garib, where 21 workers died.
"H&M is able to increase profits in an extremely competitive climate, but yet the company is apparently incapable of getting all of its suppliers to carry out even simple actions such as removing a lock," said Sam Maher of the Clean Clothes Campaign. "This is totally unacceptable."