Coalition of Unions, Advocates, Fair Trade Companies and Retailers Calls on Fair Trade Certifier to Decertify Fyffes' Subsidiary for Labor Abuses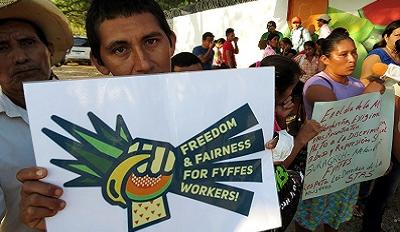 A coalition of unions, farmworkers, fair trade advocates, ethical businesses and retailers is confronting Fair Trade USA (FTUSA), a US-based fair trade certification agency, for ignoring human rights abuses and its own standards in certifying a Honduran melon grower with a long history of violations. In an open letter sponsored by the International Labor Rights Forum (ILRF) published through Fair World Project (FWP), the coalition is calling on FTUSA to adhere to its own standards and take immediate action to decertify Suragroh, a fully-owned subsidiary of multinational fruit company, Fyffes.
Fyffes is one of the largest fruit companies in the world and the top supplier of winter-season melons to U.S. supermarkets, sold under the "SOL" label. They employ 8,000 workers on their Honduran melon plantations. FTUSA certified Fyffes' Honduran melon subsidiary, Suragroh, in April 2018, despite a long list of serious human and labor rights violations.
The open letter, which identifies the FTUSA standard's shortcomings and lack of commitment to farmworkers, is the result of months of engagement and correspondence by ILRF. It is available to read here and organizations are encouraged to sign on to the letter at www.laborrights.org/openlettertoFTUSA.
The well-documented violations have been reported for more than a decade and include failure to pay minimum wages, exposure of workers to hazardous agrochemicals, illegal firings of pregnant workers, blacklisting, harassment, and illegal dismissal of union members. In January 2016, workers decided to organize a union in order to address their longstanding grievances and bargain for improved working conditions. In response, Fyffes local management began engaging in violent union busting activities: intimidating, threatening, illegally firing and blacklisting union members. One prominent example is when Fyffes fired all 65 of its security guard personnel in February 2017, days after it found out they had affiliated to the union.
"FTUSA's weak standards and 100 percent lack of accountability translate to 'fair washing' of human rights abuses," says Dana Geffner, Executive Director of FWP. "FTUSA is actively undermining the farmworkers' organizing efforts on the ground and eroding the spirit and integrity of fair trade."
"Fyffes in Honduras has perpetuated anti-union repression from the very first moment that melon workers decided to organize an independent trade union. When workers have exercised their universal right to freely associate and organize, they have faced violent retaliation from Fyffes local management," says Judy Gearhart, Executive Director of ILRF. "Despite overwhelming evidence and worker testimonies, Fair Trade USA is allowing Fyffes to continue bulldozing workers' rights with impunity and giving the global brand a shiny, profitable stamp of approval."