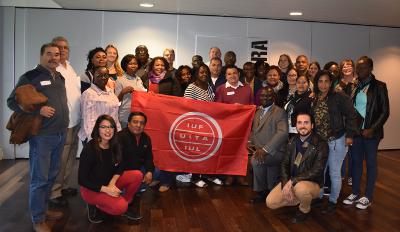 As the banana world gathers in Geneva this week for the Third Conference of the World Banana Forum (FAO), small scale farmers and trade unions representing plantation workers are warning that without fundamental changes in the way that bananas are produced, the world's favorite fruit will disappear from supermarkets shelves.
Trade unions and small farmer cooperatives representing more than 600,000 people held a preparatory meeting, hosted by the International Union of Foodworkers (IUF), to develop and agree priority proposals to share with all industry stakeholders at the conference. 
Banana production based on low-paid, large-scale monoculture is destroying worker health, the natural environment and local communities, and has led to the spread of the disease Tropical Race 4 (TR4) that threatenens the very existence of the banana itself. 
Representatives of plantation workers and small scale farmers are calling for:
1. The replacement of an industrial monoculture by diverse ecological production systems that increase resilience to disease and climate change 
2. An end to the use of toxic agrochemicals, many of which are prohibited or restricted in the United States and Europe. 
3. A new approach to industrial relations that treats workers and their unions with dignity and respect through internationally recognized standards of freedom of association and collective bargaining. 
4. Fair distribution of value along the chain that enables workers to secure a living wage 
5. For women to have an active and meaningful role at all levels of decision making 
"As participants in this week's Third Conference of the WBF, we are fully committed to helping develop a climate of cooperation between all stakeholders in the banana trade to work towards achieving the goals of a sustainable industry that provides decent work and healthy working conditions for those who grow the bananas we eat." Jacqui Mackay, National Coordinator, Banana Link
Gabriela Rosazza, Campaigns Associate, International Labor Rights Forum, participating at the Conference commented that, "Through organizing and collective bargaining, independent trade unions work everyday to create a more just and sustainable banana industry. The critical role they play is finally being recognized at this significant global event."