Walmart, Gap, VF, Target & Hudson's Bay Have Failed to Address Deadly Hazards in Many Factories, But Bangladesh Alliance Downplays the Problem with Rosy Status Reports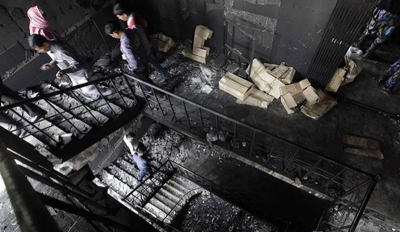 Three and a half years after the catastrophic Rana Plaza building collapse, major apparel brands and retailers that are part of the Alliance for Bangladesh Worker Safety are failing to fulfill their commitments to make their supplier factories safe, leaving hundreds of thousands workers at risk, according to a new report by labor rights groups. The report, "Dangerous Delays on Worker Safety," is the first independent study on progress at factories producing for Alliance members. It reveals that rather than hold member companies accountable, the Alliance is concealing their lack of action by refusing to publish detailed information on factory progress and by reporting some factories as "On Track" on safety renovations when, in fact, they have failed to implement key renovations by mandated deadlines.
While the Alliance published corrective action plans (CAPs) for each of the 674 factories employing an estimated 1.18 million workers following initial inspections, it has, since those inspections were done, published no updates on factory-by-factory progress apart from overall status labels such as "On Track" or "Needs Intervention." Using detailed progress updates published by the Bangladesh Accord on Fire and Building Safety on factories supplying members on both programs, the labor rights groups – International Labor Rights Forum, Worker Rights Consortium, Clean Clothes Campaign, and Maquila Solidarity Network – found substantial delays in key safety renovations at Alliance suppliers, a problem which the Alliance has not acknowledged publicly. Moreover, the report shows that the Alliance's decision to grant factories until 2018 to complete fire, electrical, and structural renovations meant that the "On Track" labels for factories as listed on the Alliance website have no relation to the status of progress on the original deadlines, which in most cases were due in 2014 and 2015.
"We are very concerned by the Alliance's decision to waive original safety deadlines because this reduces the urgency of compliance for brands and factories," said Liana Foxvog, Director of Organizing and Communications at the International Labor Rights Forum. "Each day that the Alliance allows the delays to linger is another day workers' lives are at risk."
Of the 107 "On Track" Alliance factories examined, the labor rights groups found that 41% have uncorrected structural problems, 57% have compromised fire exits, and 58% do not have a properly functioning fire alarm system.
Any of the hazards in these categories could be the cause of injury or death to workers.
Structural problems that factories in the sample have failed to address include loads in multistory factories heavier than the floors can reliably bear, cracks in beams holding up the floors, over-stressed structural columns, and similar deficiencies. Fire exit deficiencies include stairwells discharging inside buildings, rather than leading outside to safety, stairwells lacking fire-rated doors, exit routes compromised by unsealed openings that would allow smoke to enter during a fire, and related issues. Problems with fire alarm systems involve delayed installation of a system or the installation of a system that does not meet standards.
The report showed that approximately 120,000 workers are employed in Walmart factories without completed fire exits. There are 74,000 workers in VF factories, 55,000 in Gap factories, 28,000 in Target factories, and 14,000 in HBC factories with the same problem.
"The Alliance's approach to reporting safety progress legitimately raises the question whether the Alliance is prioritizing the protection of its member brands' reputations over the protection of workers," said Scott Nova, Executive Director of the Worker Rights Consortium.