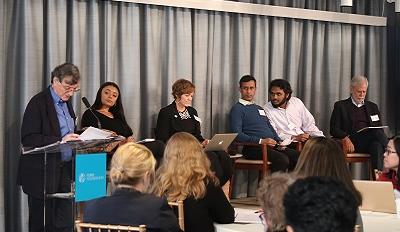 Just two weeks before the fifth anniversary of the Rana Plaza building collapse – the deadliest disaster in the history of manufacturing – scholars, journalists, human rights advocates, and corporate and labor leaders from the U.S., Europe, and Bangladesh came together at the Ford Foundation in New York City to assess the state of workplace safety and labor rights in Bangladesh's massive garment industry. The April 10 event, 'Has Anything Changed Since Rana Plaza? Worker Rights and Safety, Five Years After the Devastation,' was co-hosted by the Ford Foundation, the NoVo Foundation, the 21st Century ILGWU Heritage Fund, and Open Society Foundations.
In the aftermath of the Rana Plaza building collapse of April 24, 2013, in which 1,134 workers were killed, brands and unions signed a legally-binding agreement called the Accord on Fire and Building Safety in Bangladesh. The agreement has made buildings safer for 2.5 million garment workers across 1,600 factories, and is set to expire at the end of May 2018. In addition to the Accord's primary focus on fire, electrical and structural safety, they also train worker safety committees, ensure workers have the right to refuse unsafe work without fear of retaliation, and respond directly to worker complaints. The Accord has helped workers remediate issues with factory owners ranging from retaliation for union activity to sexual harassment and violence at work.
 "We've had years and years of voluntary corporate social responsibility programs…and the results are dismal," said panelist Sarah Fox, former Special Representative for International Labor Affairs at the U.S. Department of State. "The difference with the Bangladesh Accord is that it's binding. With all there is left to be done in Bangladesh, we should not forget this is no small thing that has been accomplished."
While tremendous progress on fire and building safety has been made in Bangladesh, panelists agreed that there is still significant work to be done to ensure worker safety in the world's second largest garment manufacturing country.
Babul Akhter, President of the Bangladesh Garment and Industrial Workers' Federation, said: "After Rana Plaza, it was easier to form trade unions at first. But from 2015 until now, it's actually been more difficult to unionize."
More than 140 brands and retailers have signed on to the 2018 Bangladesh Accord, a three-year transition agreement designed to continue renovating and improving factories, as well as to provide additional protections for freedom of association and carrying an option to extend coverage to textile suppliers. But some major brands sourcing from Bangladesh have yet to signal their commitment to the 2018 Accord.
Panelist Kerry Kennedy, president of RFK Human Rights, said: "It is disappointing that some of the 220 companies in the original 5-year Accord program have refused to sign onto the 3-year renewal of the program, from this May until May 2021. In particular, companies like the British brand Next and the American brand Abercrombie & Fitch have still not renewed their participation in the Accord."
Two days after Ms. Kennedy made this statement, Next announced they would indeed sign the 2018 Bangladesh Accord. One can only hope the remaining laggard brands will follow suit. The International Labor Rights Forum, United Students Against Sweatshops, and Workers United (SEIU) will be holding demonstrations at Abercrombie & Fitch stores on April 21 to urge A&F to sign the 2018 Accord as well.
See a recording of the event here.