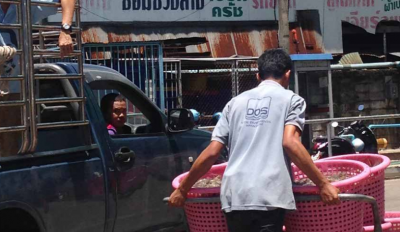 The widespread failure to exercise proper control over the operations of fishing vessels together with a demand for cheap seafood has led to a failure both to protect marine biodiversity and to protect human rights. As managers have failed to limit the number of vessels and gear deployed at sea, and technology improvements have allowed vessels to spend longer times at sea at greater distances from the shore, fish stocks have declined.
As a result, human rights are under threat. The rights at stake include the right to life, right to organize, right to freedom from torture 1and other cruel, inhuman, or degrading treatment,3 right to freedom from slavery and forced labour, right to work in favorable conditions, right to health, right to a healthy environment, and the right to have access to food, for both workers and communities affected by unsustainable fishing practices.
The connections between human rights and labour abuses in the fishing sector with the practices of overfishing and illegal, unreported, unregulated (IUU) fishing are abundantly clear to the groups organizing this submission. However, existing legal instruments keep these issues in isolation from each other, and governing bodies have yet to coordinate discussions that acknowledge the interconnectedness of these issues and address them as such. It is the hope of the groups supporting this submission that the Special Rapporteur, the United Nations, and related agencies will make a concerted effort to more closely examine the linkages between IUU fishing, forced labor, and human rights abuses through their laws, policies, and programs.
Pursuant to Human Rights Council Resolution 28/11, the Special Rapporteur on Human Rights and the Environment has invited stakeholders and civil society members to submit contributions for the preparation of the thematic report on biodiversity and human rights. This mandate is especially timely and pertinent given ongoing threats to the health and safety of our oceans and the people who work in them. As long-time observers of the seafood industry, it is clear that the last few decades of rapid biodiversity loss at sea are largely attributed to the fishing sector and have direct links to human rights violations, both of which feed back to each other in a vicious cycle of ocean destruction. Given the urgency of the situation, several organizations and experts have joined together to prepare the present submission:
Environmental Justice Foundation
Fairfood International
Greenpeace
Human Rights at Sea
International Labor Rights Forum
International Transport Workers' Federation
International Union of Food and Allied Workers
Walk Free