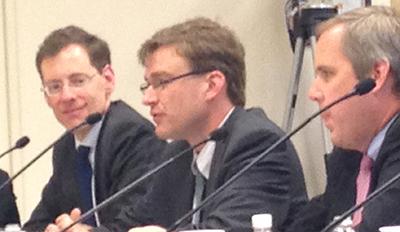 Brian Campbell, ILRF's director of policy and legal programs, testified before the US House of Representative's Foreign Affairs Committee on April 29, 2014, about the continued and systematic forced labor of farmers to cultivate cotton and adults and children to pick cotton by the government of Uzbekistan.
Rep. Chris Smith of New Jersey, who has been a leader in drafting and pushing for effective implementation of anti-trafficking legislation, presided over the hearing, titled, "Effective Accountability: Tier Rankings in the Fight Against Human Trafficking." The hearing evaluated the anti-trafficking actions taken in 2013 by countries automatically downgraded to Tier III last year in the US Department of State's annual Trafficking in Persons Report, including Uzbekistan. It also explored what actions countries who could receive an automatic downgrade in 2014 have taken in 2013.
Brian updated the committee on developments from last year's cotton harvest, noting that although the Uzbek government again exempted children under age 15, it maintained the forced-labor system for producing cotton intact. To replace the younger children, the Uzbek government forced children ages 16-17 and more teachers, nurses, other public-sector workers and private-sector employees to pick cotton. Brian also discussed the risks that the forced-labor system creates for companies operating in Uzbekistan or using cotton as well as the outcomes and take-aways from the recent ILO monitoring mission, a first after years of international pressure.
Thailand was another country discussed extensively in the hearing. More than 3 million migrant workers live and work in Thailand, many of whom are left vulnerable to trafficking by Thailand's complex and discriminatory immigration policies and labor laws. Thai officials have been found to be complicit in trafficking schemes both of migrant workers, and of Rohingya Muslims, tens of thousands of whom are transiting through Thailand to avoid ethnic conflict in Burma. ILRF has worked actively with partners in Thailand, including the Migrant Workers Rights Network, to strengthen protections for migrant workers in Thailand.