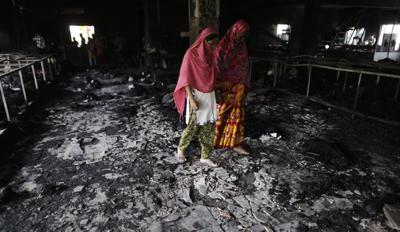 In a year when the tragedies at Rana Plaza and Tazreen Fashions have spurred both governments and private retailers and apparel brands to take action for a safer Bangladeshi garment industry, retail operations run by the U.S. government have been conspicuously quiet. The U.S. military exchanges use some of the same factories as private retailers and brands to make their own private-label apparel in Bangladesh and operate more than 1,100 retail stores on military installations in all 50 states and more than 30 countries around the world. As large buyers of apparel and as agents of the U.S. government, the military exchanges should lead by example and take responsibility for safe working conditions in their supply chains. Subsidized by U.S. taxpayers, the military exchanges are also important emissaries of American values and have a special responsibility to reflect those values in their purchasing. While the exchanges provide important services to members of the military and their families by offering low-cost merchandise and by directing its profits into morale, welfare and recreation programs, these services should not come at the cost of unsafe working conditions for the workers who make the apparel they buy.
However, the International Labor Rights Forum(ILRF) has learned that the military exchanges are, in effect, "flying blind," sourcing their private-label clothing from factories in Bangladesh without taking any independent action to investigate or remedy safety hazards and illegal conditions. Instead, the military exchanges rely on either the factories' own unverified statements of compliance with labor law or the social audits of companies such as Walmart and Sears—audits that have historically failed to protect workers—to confirm safe and decent working conditions. In some cases they simply cut off relationships with suppliers when presented with evidence of violations, leaving workers behind in potential deathtraps. This recklessness toward working conditions in their supply chains first came to light when Marine Corps licensed apparel was found in the rubble of the Tazreen Fashions factory, where 112 workers were killed in November 2012.
The exchanges' inaction in the face of dangerous working conditions in their supply chains weakens the Obama administration's efforts to get U.S. brands and retailers to do more to promote workers' safety and labor rights in Bangladesh. The appearance of a double standard for the U.S. government's own retailers diminishes the administration's credibility and weakens its ability to promote human rights in Bangladesh and elsewhere. The U.S. military exchanges, the Administration, and Congress should work together to eliminate this double standard and ensure that the U.S. government's own retailers take advantage of their unique position as U.S. government representatives and buyers in the private marketplace to become an example for private-sector retailers to follow.