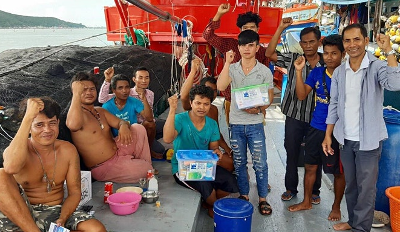 Date:
Wednesday, March 18, 2020 -

8:00pm

to

9:30pm
Location:
By time zone: 
March 19 7:00 a.m. Thailand
March 18 8:00 p.m. US Eastern
March 18 5:00 p.m. US Pacific
Thank you to everyone who joined the webinar. Here is the recording from the webinar. 
---
Join us and hear from organizers on the front lines of addressing labor rights issues in the global seafood industry, as well as journalists and human rights experts working to document and expose violations. Workers around the world are undertaking bold efforts to organize and improve working conditions, address health and safety concerns, and end labor abuses in workplaces in the global seafood industry. This panel will highlight both the successes achieved and the challenges faced in these local struggles and foster dialogue on the need for solutions that put enforceability and worker-led approaches front and center.
FEATURED SPEAKERS
Esther Htusan, Pulitzer-Prize Winning journalist will discuss her groundbreaking investigation that uncovered human trafficking in the fishing sector in Southeast Asia – "Seafood from Slaves" – and the changes on the ground from the reporting.
Kimberly Rogovin, ILRF's Senior Seafood Campaign Coordinator, author of "Time for a Sea Change", will present on the need for the right to organize as the key driver of change in the seafood industry.
Phil Robertson, Human Rights Watch's Deputy Asia Director, will moderate a dialogue with frontline organizers:
Allison Lee, Secretary General, Yilan Migrant Fishermen's Union, Taiwan
Ussama Kaewpradap, Organizing Operation Coordinator, ITF-Fishers' Rights Network, Thailand
Martha Uvalle, Worker, Seafood Workers' Alliance, Louisiana
Photo Credit: ITF-Fishers' Rights Network