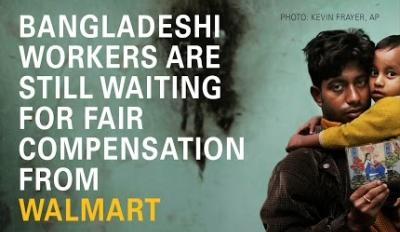 Date:
Tuesday, November 24, 2015 - 12:00am

to

Wednesday, December 6, 2023 - 2:07pm
Location:
At the Walmart store near you!
On November 24, 2012, a preventable fire at Tazreen Fashions, a factory in Ashulia, in the outskirts of Dhaka, Bangladesh, claimed the lives of at least 112 garment workers who were trapped inside. At the time of the fire, the majority of the clothing made at Tazreen was Walmart's. However, three years later, Walmart still hasn't paid even a single penny of compensation owed to the injured workers and families of the deceased. The survivors continue to suffer not only from the pain of their injuries and the trauma of the horrific fire, but also from severe economic hardship as a result of medical bills and loss of income, as they continue to await the full and fair compensation due to them. 
Join us on November 24, 2015, the third anniversary of the fire, to urge Walmart to join with C&A and pay full and fair compensation to the injured workers and families of the deceased.
Here's how you can help on November 24th:
An action can be as simple as delivering a letter to the store manager at a Walmart near you. Or, with a group of friends, you can hold a demonstration in front of the store, handing out leaflets to shoppers. To let us know that you'll take action and to receive sample materials, fill out this form.