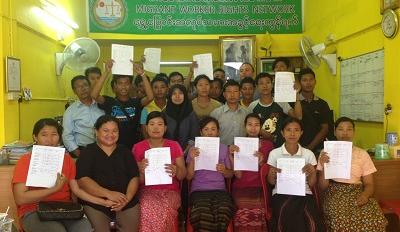 Date:
Wednesday, October 4, 2017 - 12:30pm
Location:
Embassy of Thailand, 1024 Wisconsin Ave NW., Washington, DC 20007
The International Labor Rights Forum and the AFL-CIO invite you to a
SOLIDARITY ACTION SUPPORTING MIGRANT WORKER RIGHTS IN THAILAND
Thai Prime Minister Prayuth Chan-ocha is in Washington, D.C., this week for a state visit that includes a meeting at the White House. Meanwhile in Bangkok, 14 migrant workers prepare to be indicted Wednesday on charges of criminal defamation and giving false information to public officials. The charges stem from a complaint to the National Human Rights Commission of Thailand in which the workers alleged egregious abuses by their employer, Thammakaset Company Limited, on a poultry farm that exported chicken overseas. Migrant rights activist Andy Hall also faces criminal defamation charges related to the case, and fled Thailand, citing prosecutorial harassment as the reason. The case has received international condemnation as a violation of Thailand's international legal obligations and business' obligations to respect human rights under the U.N. Guiding Principles framework.
The 14 migrant workers now face up to one and a half years' imprisonment and/or fines of up to 30,000 Thai baht (US$900). Andy Hall is also facing potential imprisonment of up to 7 years and fines up to 300,000 Thai baht (US$9,000) for alleged criminal defamation and violations under the Computer Crimes Act.
WE MUST SAY NO TO CRIMINAL DEFAMATION LAWS, NO TO SILENCING OF WORKERS, AND NO TO WORKER EXPLOITATION AND TRAFFICKING.