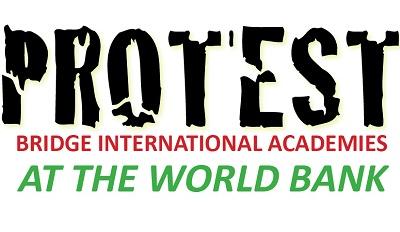 Date:
Friday, April 21, 2017 -

12:00pm

to

1:00pm
Location:
In front of the World Bank
At the juncture of 19th and H Street and Pennsylvania Avenue, N.W.
(a triangle-shaped grassy area called Murrow Park)
African school children have become the new internet experiment in for-profit education, thanks to the World Bank and venture capitalists Bill Gates, Mark Zuckerberg and Pearson Education. Bridge International is a high-tech scam that replaces teachers with tablets. African governments are closing Bridge Schools for their abject failure to meet basic educational standards, and for putting "the life and safety of students in danger." Yet instead of supporting democracy through free public education, the World Bank and its venture capitalist partners continue to impose this costly for-profit, robot-based education model on school children and families.
Teachers' unions in Africa are fighting against this bankrupt education philosophy. Please come voice your concern and show your support for the South African Democratic Teachers Union, Uganda National Teachers' Union, Kenya National Union of Teachers and allies Education International, Public Services International, the American Federation of Teachers, National Education Association, Global Campaign for Education, and AFL-CIO!