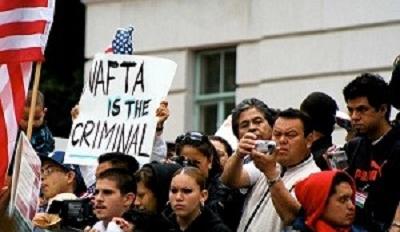 Date:
Tuesday, June 27, 2017 - 8:30am
Location:
International Trade Commission
500 E St SW, Washington, D.C.
The broad coalition that derailed the Trans-Pacific Partnership (TPP) will deliver more than 100,000 petitions demanding the North American Free Trade Agreement (NAFTA) be replaced with a deal that benefits working people as witnesses arrive for hearings on NAFTA renegotiation at the International Trade Commission. This follows the unprecedented submission of more than 50,000 comments to the U.S. Trade Representative (USTR) docket on NAFTA talks by people from cities and towns across the United States.
The unprecedented public response to the Trump administration's start of the NAFTA renegotiation process reveals the high political stakes. People nationwide are watching closely to see if the same old corporate-dominated negotiating process will continue and another rigged agreement that continues NAFTA's damage will emerge. The petitions and comments note that if corporate elites are allowed to dictate how NAFTA is renegotiated, the agreement could become more damaging for working families and the environment, and that modest tweaks will not stop NAFTA's ongoing damage, much less deliver on Trump's promises for a deal that will create American jobs and raise wages. 
Organizations involved in the petition include: AFL-CIO, Corporate Accountability International, Citizens Trade Campaign, Daily Kos, Economic Policy Institute, Food & Water Action Fund, Friends of the Earth, Good Jobs Nation, International Labor Rights Forum, Jobs With Justice, Just Foreign Policy, Our Revolution, People Demanding Action, Progressive Congress Action Fund, Public Citizen and SumOfUs.