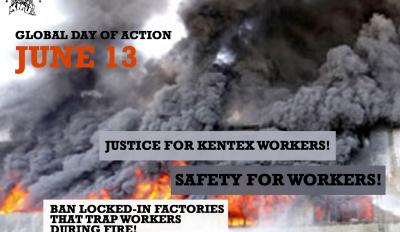 Date:
Saturday, June 13, 2015 - 12:00am

to

Sunday, December 4, 2022 - 3:05am
Location:
World wide, and in your community!
Please support the global day of action in solidarity with the 72 workers who died, and 20 missing workers, in the Kentex footwear factory fire in the Philippines. Together we'll call for justice and safe workplaces
Things you can do:
1. On a pair of flip-flops, write "Justice for Kentex Workers!" or  " Safety for Workers!"  or similar calls. Take a photo of the shoes at your workplace, union or organizational gathering,  or in front the Embassy of the Philippines in your country. Post the photo on twitter using the hashtag #JusticeforKentexWorkers and on this facebook page. Please post the picture on June 13, 2015.
2. Sign the petition to the President of the Philippines.
3. Write the Philippine government and the Department of Labor.
President Benigno Aquino III
New Executive Building
Malacañang Palace Compound J. P. Laurel St., San Miguel, Manila
Tel: (082) 564-1451 to 80; 736-1010
Fax : (082) 735-8005
Email: op [at] president.gov.ph
 
Secretary Rosalinda Dimapilis Baldoz
Department of Labor Employment
7th Floor, DOLE Building, Intramuros, Manila, the Philippines
Fax No: (082) 336-8182
Email: secrdb [at] dole.gov.ph