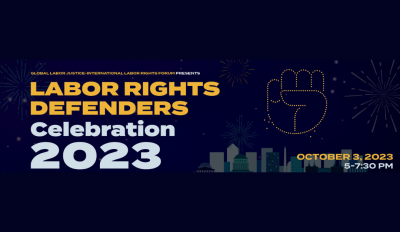 Date:
Tuesday, October 3, 2023 - 5:00pm
Around the world, in the face of resistance, workers are organizing together to defend their rights and build their collective power.
Please join Global Labor Justice- International Labor Rights Forum (GLJ-ILRF) for our annual Global Labor Rights Defenders' Event to share solidarity and build community in support of these efforts.
When: Tuesday, October 3, 5:00 to 7:30 P.M. ET for conversation, community, and solidarity with light refreshments and drinks.
Where: Friends Meeting of Washington, 2111 Decatur Place NW, Washington, DC 20008 with indoor and outdoor space.  Additionally, street parking near the event space is limited and parking regulations are strictly enforced. We recommend carpooling or public transportation.
Registration: Please RSVP at this link. Donations are welcome but not required. If you have any questions or do not receive a registration confirmation email, please reach out to events [at] globallaborjustice.org.