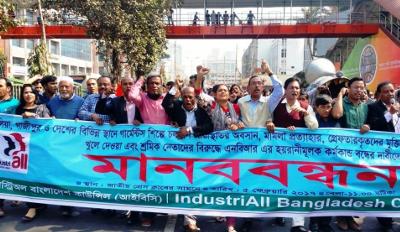 Date:
Wednesday, February 15, 2017 - 12:00pm
Location:
Embassy of Bangladesh
3510 International Drive NW, Washington, DC 20008
(near Van Ness-UDC metro station)
In December, workers at 20 garment factories in Bangladesh held peaceful walk-outs to call for a higher wage. The garment industry and the government of Bangladesh used the protests as an opportunity for a broad crackdown on labor. At least two dozen labor activists – many not involved in the strike – have been jailed and multiple union offices have been forcibly closed.
This week, actions are taking place at Bangladesh's embassies around the world. Join us in DC to call on the government of Bangladesh to immediately release the detainees, dismiss all falsified complaints against organizers and workers, and end the repression of trade unions.
This action is organized by the AFL-CIO, International Labor Rights Forum, United Students Against Sweatshops, IndustriALL Global Union, and UNI Global Union.
#WagesNotJail #EveryDayCounts