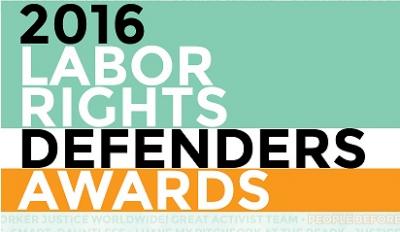 Date:
Thursday, May 12, 2016 - 5:30pm
Location:
Studio Theatre, 1501 14th St. NW, Washington, DC 20005
Many thanks to everyone who supported the 2016 Labor Rights Defenders Awards!  Check out the full program book here. 
Check out photos from the event below:
This year, we were so excited to celebrate our 2016 Labor Rights Defenders:
Congresswoman Marcy Kaptur
for her advocacy to eliminate child labor in agriculture and to protect workers' rights in global trade agreements;
The International Association of Machinists and Aerospace Workers,
for their deep commitment to justice for all workers; and
Human Rights Defenders in Uzbekistan,
including Elena Urlaeva, Dmitry Tihonov, and Uktam Pardaev,
for their leadership, bravery, and dedication to challenging the state-run regime of forced labor in the cotton sector of Uzbekistan.
Opening Skit
Featuring: 
ILRF Executive Directors: Pharis Harvey, Terry Collingsworth, and Bama Athreya; 
GoodWeave International Executive Director: Nina Smith; and ILRF Staff
---
The 2016 Labor Rights Defenders Awards is in part sponsored by:
International Association of Machinists and Aerospace Workers
International Brotherhood of Teamsters
L Brands Foundation
Communications Workers of America
Joe Eldridge & Maria Otero | The Kresge Foundation