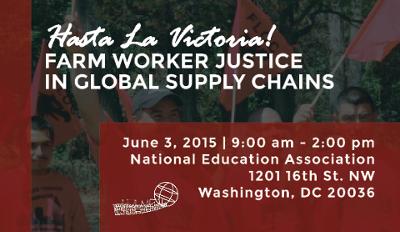 Date:
Wednesday, June 3, 2015 - 9:00am

to

Thursday, February 2, 2023 - 2:44am
Location:
National Education Association
Washington, DC 20036
The world is fed through the hard work of farm workers and their families. Yet in many countries around the world, including the United States, farm workers are excluded from fundamental labor protections and denied their rights at work. The global agricultural sector is plagued by a litany of problems, including denial of the right to collectively bargain, low wages, reliance on an exploited migrant workforce, threats to worker health and safety, child labor and debt bondage. 
We've assembled two expert panels that includes policy experts, labor organizers and former child laborers that will discuss the challenges faced by agricultural workers and explore policy options to improve working conditions. We will also do a deep dive into tobacco, a particularly toxic crop, that fuels a half trillion dollars in global profits every year and is built on a long history of worker exploitation. Click here to see a full conference agenda.
Congresswoman Marcy Kaptur, who has seen firsthand the conditions for workers in the tobacco fields of North Carolina, will be our honored keynote speaker. Our panel of experts include:  
Minor Sinclair, Oxfam America
Bruce Goldstein, Farmworker Justice
Neha Misra, Solidarity Center
Norma Flores Lopez, Association of Farmworker Opportunity Programs
Marty Otanez, University of Colorado at Denver
Baldemar Velasquez, Farm Labor Organizing Committee
Raphael Sandramu, Tobacco and Allied Workers Union of Malawi
Abby McGill, International Labor Rights Forum
We hope you will join us! Registration will begin at 8:30am, and a light continental breakfast and lunch will be provided. The conference is free to the public. 
---