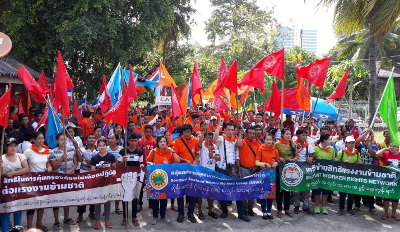 Six years ago, international media exposed widespread forced labor, human trafficking, and other egregious abuses in the Thai seafood industry. The initiatives put into place since then have not been sufficient, and forced labor continues year after year. The Seafood Working Group – a global coalition led by ILRF – documented serious labor rights abuses in the fishing and other sectors in 2019, calling on the U.S. State Department to downgrade Thailand in the Trafficking in Persons Report 2020. The International Labour Organization's report released in March 2020 also shows that forced labor is a continuing, persistent problem in the fishing and seafood-processing sectors.
Foreign migrant workers comprise the majority of those employed in the Thai seafood industry. This includes hundreds of thousands of young women and men who have come from Myanmar, Cambodia, and Laos to work in commercial processing factories, on fishing vessels, and on farms. The seafood they catch and process is sold to international companies – this powers the Thai economy and puts food on the plates of people around the world. However, unlike Thai workers, foreign workers are, by law, explicitly denied their fundamental labor rights to freedom of association and collective bargaining. This is extremely problematic in migrant-dominated industries such as seafood processing and fishing. Thai law and the labor practices of Thai suppliers mean that migrant workers are blocked from doing the one thing most likely to improve working conditions or prevent abuse: building and leading their own unions.
For more information, see ILRF's March 2020 publication, Time for a Sea Change: Why trade union rights for migrant workers are needed to prevent forced labor in the Thai seafood industry.