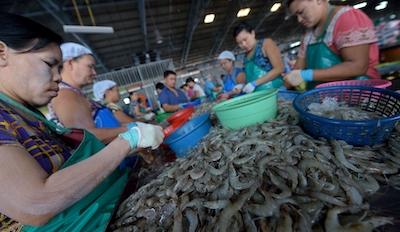 The Seafood Working Group (SWG) is a global coalition of human rights, labor and environmental organizations that work together to develop and advocate for effective government policies and industry actions to end the related problems of labor exploitation, illegal fishing and overfishing in the international seafood trade. Founded in 2014 together with the support of Humanity United, the SWG is convened by Global Labor Justice - International Labor Rights Forum (GLJ-ILRF) and is led by an Advisory Body of leading organizations in these fields. 
The impetus for the SWG is our understanding that labor exploitation is often integrally linked to illegal and unsustainable practices in the seafood industry. Our membership includes environmental groups which have spent decades campaigning for practices that protect marine environments, and possess knowledge that can support campaigns for just working conditions and vice versa. It is only by working together, with environmental, human rights, and labor organizations each contributing based on their unique expertise, that comprehensive solutions can be developed to fundamentally move the seafood sector towards more sustainable, rights-respecting practices.
Guiding Principles 
Educate, engage, and hold governments and corporations accountable for ensuring internationally-recognized labor standards and to adopt and progressively implement new standards where there are gaps.  
Promote advocacy agendas that are grounded in the priorities of workers, trade unions and worker-led organizations on the frontlines.
Foster cooperation to find solutions to labor, social, and environmental issues in the seafood industry through consensus-building, collaboration and partnership. 
Promote best practices to end illegal, unreported and unregulated (IUU) fishing and overfishing, and ensure good governance of oceans and protection of oceans and marine life.
Advisory Body
The Working Group is led by an advisory body of leading labor, human rights and environmental organizations that help determine the strategic advocacy priorities of the coalition and guide its expansion to support workers in the seafood industry throughout Asia.  The current members of the Advisory Body are:
Members
The Working Group has produced several significant outcomes in its six years, including: