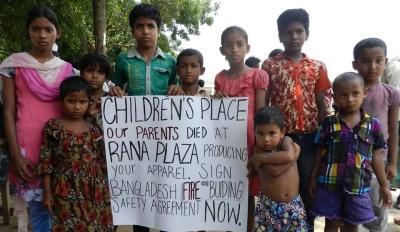 Date:
Thursday, April 24, 2014 (All day)
Location:
At clothing outlets, big box retailers, malls, corporate sourcing offices, and online everywhere!
Join workers and consumers around the world in a day of action on April 24, 2014, to stand in solidarity with garment workers in Bangladesh. One year after the Rana Plaza building collapse killed at least 1,135 people in the worst garment industry catastrophe the world has ever seen, concerned citizens around the world will demand that apparel brands and retailers pay full and fair compensation to the victims of the Rana Plaza collapse, the Tazreen factory fire, and other apparel industry disasters. We'll also call on all brands that source from Bangladesh and haven't yet joined the legally-binding Accord on Fire and Building Safety in Bangladesh to sign on immediately.
In the past year, more than 150 companies have joined the Accord to curb the death toll in Bangladeshi garment factories and prevent future disasters. However, the injured workers and families who lost loved ones at Rana Plaza and Tazreen continue to suffer. Some can't pay their hospital bills. Some have had to pull their kids out of school and send them to work to keep from starving.
Companies have begun contributing to a $40 million fund for victims of the Rana Plaza building collapse. However, Children's Place – the largest pure-play children's specialty apparel retailer in the United States – has not contributed at all. On April 24th, join us in calling on Children's Place to do right by the injured workers and children who were orphaned by the Rana Plaza building collapse. Children's Place owes less than half of CEO Jane Elfers' $17 million annual compensation. It's time for Children's Place to stop delaying and pay up now!  
Demonstrations will also take place at Walmart stores around the country, calling on Walmart to contribute to the Rana Plaza fund and to compensate Tazreen fire victims. The bulk of Tazreen's production at the time of the November 24, 2012, fire was destined for Walmart. It's time for Walmart to stop shifting the blame and to pay its fair share of compensation to the survivors and families who lost loved-ones.
Finally, students will take action on campuses around the U.S. to call on universities to require that collegiate apparel licensees sign the Accord. The campaign is calling on VF – the largest maker of branded apparel in the world – to sign on.