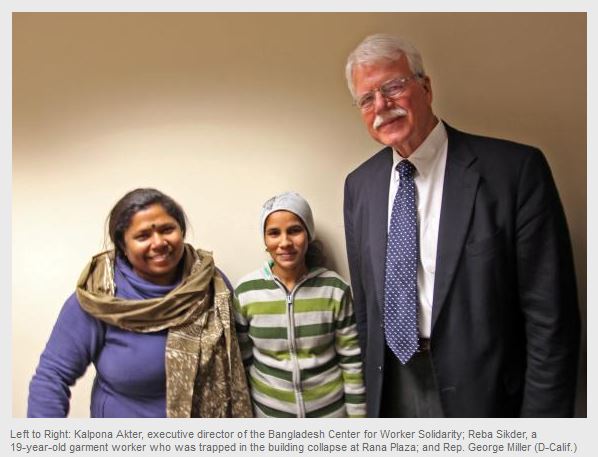 Congressman George Miller is the senior democrat on the House Education and the Workforce Committee and a leading advocate in Congress on international labor and human rights.
First elected in 1975, he represents the 11th District of California. The fifth most senior member of the House, Miller will not seek another term this fall.
Throughout his career, Miller has been an aggressive and unapologetic defender of the health and safety of children and workers.
In 1996, Miller hosted a 15-year-old Honduran garment worker who was paid 31 cents per hour to make clothes for Walmart, propelling the issue into the national spotlight. That year Miller also joined labor and human rights campaigners to call out Nike and Reebok for using child labor—workers as young as age 6—in Pakistan to make soccer balls. Miller called on FIFA, international soccer's governing body, to withhold its endorsement of soccer balls made with child labor. 
Miller has been an outspoken critic of violence against workers and union leaders in Colombia. He leads a congressional working group that has pressed the U.S. and Colombian governments to prosecute those responsible for the murder of more than 3,000 trade unionists and urged Colombian leaders to implement the Colombia Labor Action Plan.
Miller has opposed regimes that have stolen democracy from their citizens—including that of Augusto Pinochet. As a result of this work, during a visit to Chile in 2014, Miller and Senator Tom Harkin received the Bernardo O'Higgins Award, the country's highest civilian honor that distinguishes foreign citizens for their outstanding contribution to Chilean society.
Miller has also been a critic of the fashion industry's record on both safety and labor and human rights in foreign factories, most recently in Bangladesh. He was the first member of Congress to visit Bangladesh following two major tragedies that claimed the lives of more than 1,240 garment workers; he met with workers and survivors and inspected factory working conditions.
Miller successfully pressed the U.S. government to suspend Bangladesh's trade benefits until its government ensures workers' safety and grants them their internationally recognized labor rights. He has called on major fashion retailers to sign the Accord on Fire and Building and Safety in Bangladesh and pressed for the passage of legislation that would require the Military Exchanges at Defense Department installations to use suppliers that abide by the Accord. 
He recently called upon the International Labor Organization to adopt a convention to combat gender-based violence in the workplace as part of an effort to force businesses to better protect their female workers.
The Nation magazine named Miller the 2013 "Most Valuable Member of the House" for his work on the minimum wage, garment worker safety, and fair trade policy.
Miller was born in Richmond, CA. He graduated from Diablo Valley Community College and San Francisco State University, and earned his law degree from the University of California, Davis, Law School. He is married to Cynthia Caccavo Miller, with whom he has two sons, George and Stephen, and six grandchildren.