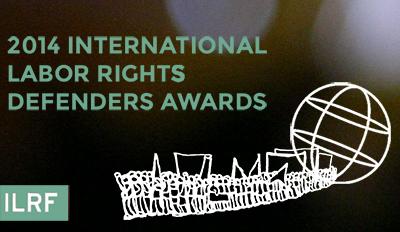 Date:
Tuesday, April 29, 2014 - 6:00pm

to

Saturday, December 9, 2023 - 8:23am
Location:
National Press Club, 529 14th Street NW, Washington, D.C. 20045
Thank you to those of you who joined us in recognizing the commitment and leadership of the 2014 Labor Rights Defenders awardees! Click here to view the event program.
the 2014 International Labor Rights Defenders:  
Congressman George Miller, for speaking out on the violence faced by women working at the bottom of the supply chain in the garment industry, calling attention to the plight of injured workers in Bangladesh, and driving change in the industry.

Communications Workers of America, 

for their pioneering transnational organizing campaigns, helping to unite and strengthen the voice of workers in the US, Mexico, Brazil and Germany.

Maquila Worker Organizing Project, (of CGT union federation in Honduras), for showing the world that through union organizing it is possible to win binding agreements with global brands and secure respect for workers' rights in global supply chains.  
Host Committee
Representative Jan Schakowsky
R. Thomas Buffenbarger, International Association Of Machinists And Aerospace Workers 
Larry Cohen, Communications Workers of America
Lawrence Hanley, Amalgamated Transit Union
Bob King, United Auto Workers
Donald "D" Taylor, UNITE HERE
Richard Trumka, AFL-CIO
Tim Beaty, International Brotherhood of Teamsters
Kim Bobo, Interfaith Worker Justice
John Cavanagh, Institute for Policy Studies
May Chen, ILRF board member
Lance Compa, Cornell University
Joe Eldridge, Kay Spiritual Center, American University
Cathy Feingold, AFL-CIO
Sarita Gupta, Jobs With Justice
Ken Grossinger, Democracy Partners
Pharis Harvey, ILRF founding executive director
Yvette Herrera, Communications Workers of America
Owen Herrnstadt, International Association Of Machinists And Aerospace Workers 
Yvette Peña-O'Sullivan, LiUNA
Carol Rosenblatt, Coalition of Labor Union Women
Mary Ann Stein, Moriah Fund
Andrew Samet, Sorini Samet & Associates LLC
Judy Scott, Service Employees International Union
Chris Townsend, Amalgamated Transit Union
Shawna Bader-Blau, Solidarity Center
Bill Fletcher Jr., American Federation of Government Employees
Claude Fontheim, Fontheim International
Sam Fried, L Brands
Sally Greenberg, National Consumers League
Ann Hoffman, National Writers Union
Dr. Lorretta Johnson, American Federation of Teachers
Alexandra Lescaze, Sidney Hillman Foundation
Katie Orenstein, The Op-Ed Project
Caroline Ramsay Merriam, Ramsay Merriam Fund
Edgar Romney, Workers United
Nina Smith, GoodWeave International
Garrett Shishido Strain, United Students Against Sweatshops
Augusta Thomas, American Federation of Government Employees
Trina Tocco, UNI Global Union
Sara Ziff, Model Alliance
 
Sponsors
Amalgamated Transit Union 
American Federation of Government Employees
AFL-CIO
American Federation of Teachers
Berger-Marks Foundation
Calvert Investments
Change to Win
Communications Workers of America
Eileen Fisher
Feminist Majority Foundation
Fontheim International
Fruit of the Loom
GoodWeave International
International Association of Machinists and Aerospace Workers
International Brotherhood of Teamsters
James & Hoffman, P.C.
Jobs with Justice
L Brands
Labor Notes
Levi Strauss & Co.
LiUNA
Moriah Fund
Service Employees International Union 
Solidarity Center
Sorini Samet & Associates LLC
Ullico
Unionwear
UNITE HERE
United Food and Commercial Workers
United Steelworkers of America
Please support the International Labor Rights Forum with a tax-deductible contribution here.