September 21, 2014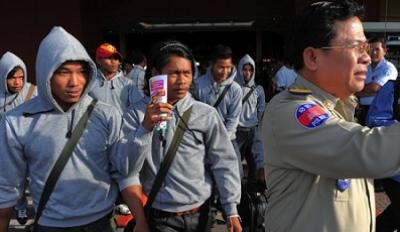 Today, hundreds of thousands of people are marching across the globe in a historic effort to demand action on climate change. The People's Climate March is a challenge to the world's leaders to focus on developing policies that will establish a more sustainable world. At ILRF, we work closely with environmental groups to include labor rights as part of the sustainability agenda. We have found time and again that corporate practices that allow unchecked exploitation of environmental resources also lead to exploitation of communities and people. Increased collaboration between the environmental and labor movements can only make both more effective at establishing truly sustainable practices that respect the needs of workers, communities and ecological systems. To see how such collaboration can be achieved in the seafood sector, please check out the commentary below I co-wrote with John Hocevar of Greenpeace, published Sept. 19 in the Global Post.
---
WASHINGTON — Last June, media reports sparked an outcry over human slavery on fishing vessels — a dark side of the cheap shrimp and other seafood now sold year-round by stores like Costco and Walmart.
The horrors uncovered by the Guardian newspaper's investigation included Cambodian and Burmese men being sold to fishing boats, forced to work at sea against their will for months or years at a time, victimized by violence, and left with little or no earnings at the end of their ordeal on the ever-emptier, overfished oceans. These men were packed below decks like sardines and half-starved.
The exposé has led to calls for consumer boycotts of seafood from Thailand, the epicenter of the scandal. This response — although understandable — neither helps those already trapped in this industry nor addresses the root of the problem.
In fact, the only way to stop this human rights nightmare is for Western companies to take responsibility for their supply chains.
What does this mean?
First, companies must require suppliers to ensure that their catch is both free of slave labor and obtained in ways that do not devastate already fragile environments.
In addition, consumers and companies should push governments to enact treaties that protect both workers and ocean life. This would help bring an end to forced labor on fishing vessels operated by 52 countries, according to the US State Department.
One step companies can take is prohibiting suppliers from using transshipment, the transfer of the catch onto refrigerated cargo ships at sea. This process keeps fishing vessels at sea and enables them to avoid the risk of inspection while in port offloading fish.
This practice is a key driver of forced labor at sea. It has been on the rise because overfishing has required ships to travel greater distances for longer periods of time for their catch, thus raising the cost and increasing the incentive to cheat employees or purchase slaves. The added time at sea keeps the horrific working conditions out of sight, while workers have almost no possibility of escape.
Greenpeace encountered such a situation while helping local officials search a ship for "long-lines" that are typical of the Western Pacific Ocean, where much of the tuna consumed in the United States is caught. Ships using long lines that can stretch many miles in international waters are not illegal, unless the lines take an endangered or threatened species. Taking of an endangered species is a violation of the Convention on the Trade in Endangered Species of Flora and Fauna (CITES).
While terrified of being overheard, fishermen on the ship managed to relay to Greenpeace inspectors that they had not been to port in 18 months, were badly treated by the senior crew and forced to live in deplorable conditions. They had inadequate access to toilets and showers and slept in shifts on thin, dirty mattresses in dark, poorly ventilated parts of the ship. This situation is all too common, and local government officials are often ill equipped or unprepared to respond, even when it is reported to them.
It is common for both workers and employers to pay labor brokers for placing workers in jobs throughout the seafood industry. This is considered a recruitment fee and is attached to the worker as debt, often with high interest rates, and deducted from their pay, leaving them with no income or means to leave abusive situations.
In 2013, for example, the International Labor Rights Forum (ILRF) researchers worked with partners on the ground in Thailand to uncover debt bondage and document confiscation among workers in Thai shrimp processing facilities that supplied to Walmart and other Western retailers. Even though they weren't stranded at sea, these migrant workers had no way to return home.
Various labels now certify seafood suppliers as socially and environmentally responsible. Supermarkets use the labels to screen their supply chain, but they not fool-proof.
ILRF found problems in Thailand at a fishery certified by the Global Aquaculture Alliance's Best Aquaculture Practices program, an industry-led certification used by Walmart in vetting its suppliers. More rigorous programs exist, but certification auditors are not equipped to inspect illegal fish-food trawlers, especially when the captain carries a gun.
Such limitations on certifiers and the existence of hundreds of thousands of industrial fishing vessels trawling the oceans, it is impossible to board and inspect each one in an effort to eliminate pirate fishing and labor abuse.
A more rigorous inspection system at port and better protections for workers are needed. Global brands must rid their supply chains of illegal fishing vessels and the practice of transshipment at sea.
These initiatives will require greater collaboration among exporting and importing governments, global brands and two global unions — the International Transport Workers' Federation and the International Union for Food and Agriculture Worker. Together, they could enact measures that would protect fishers and recognize their right to unionize as a critical piece of the solution.
Some will argue that such measures will make shrimp more expensive. Consumers changing their shopping practices can help. The responsibility ultimately falls to retailers who assure transparency and best practices in their supply chain so that consumers can be confident in the seafood that they want to buy.
Judy Gearhart is executive director of the International Labor Rights Forum, a human rights advocacy NGO that works globally to ensure workers' rights, and a Ford Foundation Public Voices Fellow with the OpEd Project. John Hocevar, a marine biologist, is the Oceans Campaign Director for Greenpeace USA, an environmental organization that works to protect and preserve the world's oceans.