May 29, 2014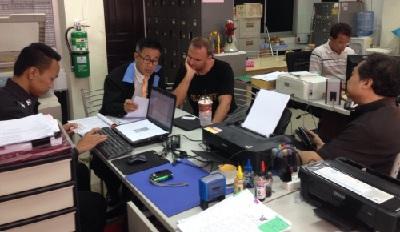 ILRF is concerned about the most recent charges brought against labor rights activist Andy Hall by the Natural Fruit Company. Hall now faces four defamation charges (both civil and criminal) and two charges under the Computer Crimes Act. Natural Fruit is a Thai export company producing pineapple juice and dried fruit. The NGO Finnwatch has published two reports documenting poor labor conditions in the Natural Fruit factory, including child labor, failure to pay overtime, confiscation of migrant workers' passports, and conditions that amount to human trafficking. Hall contributed to the first of those two reports, and the company responded with the first defamation charge soon after it was released.
Hall had his first formal appearance before a Thai court on July 2. This first hearing, which consisted of court ordered negotiation between the plaintiff and defendant and a formal court hearing to determine dates of witness hearings, follows the decision of Thailand's Attorney General on 18th June 2014 to prosecute the latest criminal case filed against Hall by Natural Fruit. The charge relates to an interview Hall did for Aljazeera in Myanmar in early 2013. If found guilty of all the charges against him, Hall faces up to seven years in prison and about $9.5 million in damages. 
Hall, a British citizen, has long documented abuse among migrant worker communities in Thailand and worked to hold the government and corporations accountable. There are an estimated 3-4 million migrant workers in Thailand, most of whom come from neighboring Burma. These workers often take the most undesirable, dangerous and poorly-paid jobs, mostly in domestic work, construction or Thailand's booming export industries: seafood, food processing and other light manufacturing. They face discriminatory labor laws and complex, costly immigration policies that leave them vulnerable to employer exploitation. 
Harassment of researchers who uncover abuse among migrant workers is an unacceptable assault on labor rights activists and could have a dangerous chilling effect silencing other rights activists. This is not the only time Thailand has used criminal defamation against people speaking out about serious abuse of migrants. The Thai Royal navy brought criminal defamation charges against two Thai-based journalists who covered a Pulitzer-Prize winning Reuters investigation into Thai officials' complicity in trafficking of Rohingya Muslims fleeing ethnic violence in Burma.
Four United Nations Special Rapporteurs have sent a letter to the Royal Government of Thailand, expressing their concern about Hall's case, and it was cited in the U.S. State Department Country Reports on Human Rights Practices for 2013. 
These charges demonstrate how criminal defamation can be used to attack labor rights defenders and silence those who speak out on behalf of exploited workers. To ensure freedom of expression and preserve the rights of activists and workers to speak out, the Royal Thai Government must repeal criminal defamation laws and amend the Computer Crimes Act to ensure it cannot be used to silence criticism. Additionally, we demand that the Natural Fruit Company drop its existing charges against Andy Hall and address the underlying issues that forced him to speak out about the company, rather than attempt to punish him for uncovering and documenting the true situation of workers in its factory.
Keep up to date on this case at Andy Hall's blog on the Natural Fruit prosecutions against him, and please contribute to his legal support fund.