January 20, 2014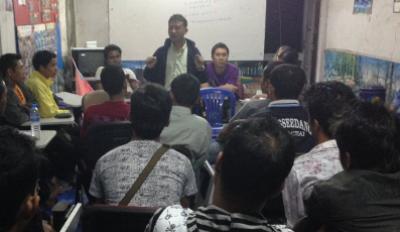 Protestors shutting down Bangkok to force the current government from power have grabbed international headlines this week. Meanwhile, efforts for a quieter revolution to improve the power dynamic between millions of migrant workers and their Thai employers took a significant step forward an hour south of Bangkok in Samut Sakhorn, one of the primary seafood processing areas in Thailand. Workers from one of the largest shrimp factories here have negotiated a settlement with their employer and developed an agreement for a representative labor committee within the factory. The workers collaborated closely with the Migrant Workers Rights Network (MWRN), and had support from ILRF.
The issue started when MWRN, through previous engagement with the employer, learned that management was about to issue an ultimatum. The shrimp disease ravaging the industry had cut supply to the point that the employer wanted to demand workers take an additional day off, but was not going to offer the 75% salary mandated by Thai law for such forced work stoppage. The employer was going to ask workers to voluntarily sign away the right to the additional pay. Those who didn't would be terminated.
MWRN pulled together a group of 30 workers to come up with a plan. They arrived in the bed of a pick-up truck around 8 p.m. on a Saturday night. They had worked all day, and their shift would start again at 6 a.m., but they stayed until midnight, discussing their options. They did not want the employer to move forward, as they thought many in the factory would sign to avoid losing their jobs. They talked through the potential fall-out if they or their colleagues were laid off for standing up to the employer. Some thought they should just sign and not make waves. Others argued that doing so would not only be bad for their plant, but for others across the industry as managers saw it was OK to force workers to give away fundamental rights. They came to the conclusion that the only option was to engage with the employer before the mandate was given and try to come to more beneficial terms. If they could not reach a settlement, they would continue to fight, encouraging the workers to protect the rights to which they are legally entitled.
The negotiations turned out to be beneficial all around. Workers at the factory can agree to take the additional day with a monthly support payment that makes up for about 50% of the lost wages, or they can agree to leave with severance pay. No worker that agrees to stay under the new conditions will be fired against his or her will. When the disease has passed and production picks up again, workers will resume their standard six-day week and the monthly support payment will come to an end. Management acknowledged they had not communicated well with the workers, and apologized in an all-staff meeting. In addition, the workers will form a labor committee within the factory composed of representatives the workers select themselves. Management will be able to take into account worker views quickly when making decisions and reach agreements to streamline plant operations. When workers have concerns, there is a body to which they can take those concerns, and an understanding that management will work to rectify them.
Most of the workers at the plant, like most of the workers in the Thai seafood industry, are migrant workers from Burma. Faced with frequent discrimination and unaware of their rights, these workers are vulnerable to abuse from employers and police alike. MWRN is an organization founded and led by migrant workers that educates their peers about their rights under Thai law and empowers them to stand up for those rights.
In this case, the the factory owners with which they were negotiating saw the benefit of positive worker relations. MWRN had worked with them in the past, and even been allowed to conduct a worker rights seminar at the factory during work hours. That relationship allowed not only a positive discourse on this particular issue, but a plan for more frequent engagement to smooth the way when problems arise in the future. This is an important step forward for the industry, and one that should be followed by others. When workers and employers work together to improve working conditions, everyone wins.