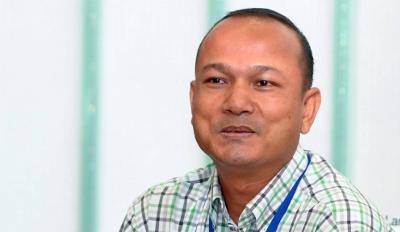 Moeun Tola, the Director of the Center for Alliance of Labor and Human Rights (CENTRAL), ILRF's longtime partner in Cambodia, is facing falsified and politically motivated allegations in an attempt to undermine the work of his grassroots organization and of the country's human rights and labor movement more broadly. On November 7, 2017, he was called to court for questioning on baseless allegations of misappropriation of funds. We fear that these accusations may be part of an attempt to intimidate or even imprison him.
Please use the tool below to send a letter in support this human rights and labor rights defender!
Tola and CENTRAL are strong advocates for Cambodian workers, including those who sew clothing for major U.S. and European brands. CENTRAL provides legal aid to workers, conducts training on fundamental rights and leadership skills, and advocates for wage increases for workers. CENTRAL has also been at the forefront of advocating for Cambodian migrant workers' rights in Thailand. During a recent trip to Phnom Penh, we witnessed CENTRAL's important work with women worker leaders, and their development of grassroots strategies to engage brands in improving the conditions of the over 700,000 workers in Cambodia's garment factories, most of whom are women.
In recent months, in the lead-up to next year's national elections, there has been an alarming escalation of repression against civil society organizations, unions, human rights defenders, opposition political parties and media outlets. The United Nations Special Rapporteur on the situation of human rights in Cambodia noted in September that "the deterioration of the democratic space and freedom of expression in Cambodia is a primary concern, with many NGOs and human rights defenders subject to threats, harassment, arrest, and/or extensive pre-trial detention." Currently, labor rights, including the right to freedom of association, are being threatened, through restrictions on the right to organize under the current trade union law and other legislative proposals.
The complaint, brought two months ago by Pich Sros, the leader of the Cambodian Youth Party, accuses Tola of misappropriating funds meant for the funeral of Dr. Kem Ley, a political analyst murdered on July 10, 2016. The summons cites the alleged crime of "Breach of Trust," which carries a maximum prison sentence of 3 years. It is believed that these accusations are an attempt to undermine Tola's peaceful and legitimate work on labor rights and human rights.
ILRF strongly condemns these accusations and actions against Tola. Please support Tola and CENTRAL's work with Cambodian workers by taking action now!