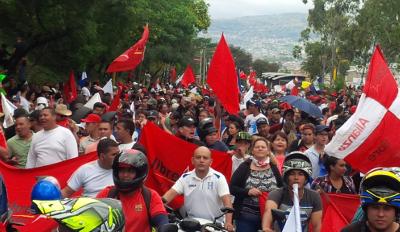 We must not stand idly by as the elections are being stolen from the Honduran people!
Since the November 26 presidential elections, tens of thousands of Hondurans took to the streets to protest voter fraud and escalating state-sponsored violence. Eleven people have reportedly been killed and hundreds more injured in association with the violence. Reports indicate incumbent President Juan Orlando Hernández to be in the lead, despite significant irregularities and widespread objections to his qualifications to run for a second term.
Hernández, who has had broad support from the U.S. government, originally gained power through a 2009 coup d'etat against then President Manuel Zelaya. Hernández justified the coup based on allegations that Zelaya was going to seek a second term. Since then Hernández pushed through constitutional reforms to permit himself to seek re-election, but this irony has been overshadowed by electoral fraud.
International media has reported mysterious computer crashes and ballot-rigging from the ruling party, which handpicks members of the Supreme Electoral Tribunal. In the past week, the Honduran government has suspended constitutional rights and ordered security forces to arrest anyone breaching the curfew, including journalists.
Anti-fraud demonstrations have been met with widespread violence from military police units, who are trained and receive funding from the U.S. government. Since 2009, Honduras has received nearly $114 million in security support. These units have been denounced for widespread human rights violations, including repression against environmental activists, indigenous leaders, trade unionists, journalists, lawyers and many others.
If the U.S., as an ongoing supporter and funder of the Honduran government, has a genuine commitment to democracy, now is the time to demonstrate it, by:
1. Ensure that the will of the Honduran electorate be respected in an honest and transparent vote count by supporting credible, independent investigations into any and all claims of state-involvement in electoral fraud and violence during and since the November 26th elections; 
2. Pass the Berta Cáceres Human Rights in Honduras Act (HR 1299), which would suspend U.S. security aid to Honduras until human rights defenders are protected and serious human rights abuses are brought to justice.
Act Now! Use this form to write to your Members of Congress to stand in solidarity with the people of Honduras.